Asylum seekers will no longer receive taxpayer-funded immigration advice if they arrive in Australia through unofficial channels.
Immigration Minister Scott Morrison said that from Monday, asylum seekers who arrived without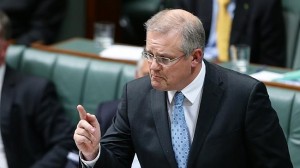 proper visas, either by boat or plane, won't be eligible for free help under the Immigration Advice and Application Assistance Scheme.
The cut will save the federal government $100 million over four years.
But asylum seekers will continue to be given instructions setting out the asylum process and interpreters.
'They'll have the system explained to them,' Mr Morrison told ABC radio.
Mr Morrison also said the withdrawal of the taxpayer-funded assistance wouldn't prevent asylum seekers from accessing legal advice and organisations were free to provide immigration advice and assistance for free if they wished.
A small amount of support will be offered to vulnerable people, such as unaccompanied minors.
Saturday marked 100 days since the last asylum-seeker boat arrived in Australia.
Mr Morrison declined to say how many boats had attempted to make the voyage before being turned during that period.
'People will still try, they have tried and failed,' he said.
'It's our job to make sure they continue to fail.'
The minister will visit Port Moresby this week for talks with his Papua New Guinea counterpart on resettlement arrangements for asylum seekers on Manus Island.
PNG has said it will resettle some, but not all, of the asylum seekers and is urging other countries in the Pacific region to share the burden.
Asked what will happen if no other countries offered to take asylum seekers, Mr Morrison said: 'They'll remain until they return voluntarily.
Source: Sky News