KARACHI: The Sindh Assembly's session for presentation of budget proposals for fiscal year 2014-2015 was under way here on Friday.
The session was being chaired by Speaker Sindh Assembly Agha Siraj Durrani.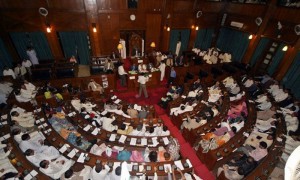 Earlier today, the provincial cabinet had approved the proposals under the chairmanship of Chief Minister Syed Qaim Ali Shah.
The chief minister, who also holds the additional portfolio of finance minister, was presenting the budget proposals on the floor of the Sindh Assembly.
The total volume of the provincial budget is estimated to be at Rs683.17billion, with Rs168 billion allocation for the annual development programme.
According to the budget documents, a 10 per cent increase in salaries is proposed for government employees. From July 1, 2014, government employees will be provided ad hoc relief of 10 per cent.
For Grade 1 to 15 employees, 10 per cent increase in medical allowances and 15 per cent increase in conveyance allowance has also proposed.
A Rs1,000-increase has also been proposed in pensions, with minimum pension now fixed at Rs6,000.
Minimum labour wage has now been set at Rs11,000, said the chief minister.
The chief minister said that Pakistan Peoples Party (PPP) government had created 200,000 jobs in last 6 years, and that, in the new budget, 25,000 more jobs would be created for poor and unemployed citizens.
Shah also announced that the provincial government has allocated Rs5bn for universities in Sindh.
Shah said that the provincial government was taking special measures to increase access to quality education in Sindh. He said that new public school will be established in 10 remote cities and towns, while 8 towns will get new cadet colleges.
Two special women's cadet colleges will be established at Benazirabad and Garhi Khuda Bux.
Through a special programme, 65,000 youth of Sindh will be taught different skills to improve their chances of employment, he said.
Among other heads, the chief minister announced an allocation of Rs20bn for energy, excluding Rs13.5bn set aside for the Tharcoal power project.
As the chief minister was in the process of presenting the budget proposals, the Sindh Assembly faced a power outage, leaving lawmakers confused. Power was soon restored through a backup generator.