Official says US defence secretary's accusation of China destabilising Asia-Pacific region is intended to stir trouble.
A senior Chinese military official has lashed out at the United States, saying its stance on disputes in Asia-Pacific is "full of hegemonism, threat and intimidation".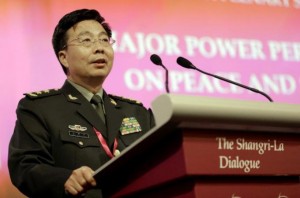 Wang Guanzhong, Deputy Chief of General Staff for China's People's Liberation Army, made the comments on Sunday at Singapore's Shangri-La Dialogue, an Asian security forum.
His words came a day after US Defence Secretary Chuck Hagel said his country would not "look the other way" when countries tried to challenge the regional or international order.
"I felt that Secretary Hagel's speech is full of hegemonism, threat and intimidation," Wang told reporters just after the speech.
Wang said Hagel's speech was aimed at causing trouble in Asia-Pacific, adding that China opposed "the practise of military alliances flexing muscles against third parties".
'Destabilising' the region
Hagel said on Saturday that China's territorial claims in the South China Sea were "destabilising" the region and that Beijing's failure to resolve such disputes threatened East Asia's long-term progress. "We firmly oppose any nation's use of intimidation, coercion, or the threat of force to assert these claims," he told delegates in Singapore.
In Beijing, Chinese President Xi Jinping said that his country would not initiate aggressive action in the South China Sea but would respond if others did, the official Xinhua news agency reported on Friday.
China has laid claim to almost the whole of the South China Sea, dismissing competing claims from Taiwan, Brunei, Vietnam, the Philippines and Malaysia.
Tensions between China and its neighbours have surged after it placed an oil rig in waters claimed by Vietnam. The Philippines said Beijing could be building an airstrip on a disputed island.
China-Japan rift
In his statement to reporters on Sunday, Wang also criticised Shinzo Abe, Japan's prime minister, who asserted Japan's willingness to play a greater defence role in Asia.
Abe pledged to contribute more to the region to promote peace and prosperity amid tensions over territorial disputes, in his key speech at the forum on Friday.
China and Japan have been at odds over uninhabited islets in the East China Sea that are controlled by Japan but claimed by both.
The US has declined to take sides, but has made clear it has a treaty obligation to support Japan. It has also refused to recognise China's declaration of an air defence zone over a swath of the East China Sea, including the disputed islands.