Electoral framework allows direct elections in 2017, but rules out direct nomination of candidates by voters.
China has endorsed a framework for the first direct election in Hong Kong in two years, but stopped short of allowing citizens of the special administrative region from directly nominating candidates, which activists have been demanding.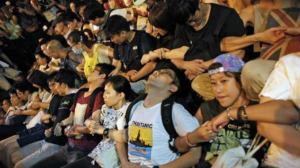 The National People's Congress Standing Committee decided on Sunday that the city's next Chief Executive will be elected by popular vote in 2017, "upon nomination by a 'broadly representative' committee", the official news agency Xinhua reported.
"Since the long-term prosperity and stability of Hong Kong and the sovereignty, security and development interests of the country are at stake, there is a need to proceed in a prudent and steady manner," the Standing Committee said in their decision.
The decision is a "direct slap" at pro-democracy activists, who have been demanding for their right to decide who their candidates should be.
"It's a decision that everyone had feared," our correspondent said.  
Political reform has been a constant source of friction between Hong Kong's pro-democracy movement and the mainland since the former British colony was handed back to Communist Party rulers in 1997.
Beijing is already hailing it as a milestone in democratic reform.
However, Beijing will tightly curb nominations for the leadership poll to filter out any candidates it deems unacceptable.
Only two or three "patriotic" candidates will be allowed on the ballot and open nominations will be ruled out.
Chinese leaders are worried that Hong Kong voters would elect a leader, who would directly challenge the Communist Party leadership.
With the decision, China wants to remind the world and Hong Kong voters that "it is ultimately in-charge of Hong Kong," he said.     
Instead, candidates must be backed by at least 50 percent of a 1,200-person "nominating committee".
That committee is meant to be "broadly representative" of Hong Kong interests, but will be similar in composition to an existing election committee stacked with pro-Beijing loyalists.
It is a formula that will rile Hong Kong's pro-democracy activists, who plan to blockade the city's Central business district in the coming weeks.
'Occupy Central'
On Saturday, Hong Kong's public broadcaster RTHK said 5,000 police will be deployed for the "Occupy Central" protest, heightening the sense of unease. The city's 28,000-strong police force is already on high alert.
Hong Kong's democracy advocates remain deeply distrustful of Beijing despite assurances from the mainland.
"Even if we accept a fake democracy model, there's no assurance at all, that for the next vote, they'll be real democracy," said Lee Cheuk-yan, a pro-democracy lawmaker.
Wang Zhenmin, a prominent legal scholar and Chinese government adviser who was flown to Hong Kong by the Chinese Ministry of Foreign Affairs to talk about the 2017 election, said it is time for "practical and realistic steps".
Willy Lam, a Hong Kong political analyst, however, told Media that Hong Kong voters are "very angry" that China is "reneging" on its promise during the 1997 handover. And he predicted "substantial protest" starting on Sunday evening.
The proposed electoral framework will still have to be endorsed by two-thirds of Hong Kong's 70-seat legislature.
With pro-democracy lawmakers holding more than a third of the seats, the proposal will likely be shelved.
Senior Chinese officials have repeatedly warned activists  against their "illegal" protests and said they would not back down.
On Friday, China also repeated its warning against foreign interference, saying it will not tolerate the use of Hong Kong "as a bridgehead to subvert and infiltrate the mainland"
The Occupy Central movement has not yet won broad support among Hong Kong's middle class, who are concerned about antagonizing China and disruptions to business, but strong measures by China or the Hong Kong police could change that.