Co-hosts New Zealand and Australia set a jaw-dropping standard for the World Cup on Saturday, getting the tournament off to an explosive start with both sides notching up targets of 300-plus runs before coasting to comfortable victories.
The Black Caps led the way in cold, blustery conditions at Hagley Oval in Christchurch, beating Sri Lanka by 98 runs. Sri Lanka won the toss and sent New Zealand in to bat, but regretted that decision as Brendon McCullum made 65 runs and Corey Anderson hit a quick-fire 75 from 46 balls to lift New Zealand to 331 for six. Sri Lanka were all out for 233 runs in 46.1 overs in reply.
Before 84,000 raucous fans at the Melbourne Cricket Ground, Aaron Finch smashed a sparkling century as Australia dealt England a 111-run humiliation. Dropped on the second ball he faced, opening batsman Finch blasted 135 at his home ground to lay the platform for victory as the co-hosts piled up 342 for nine, two runs shy of the venue's one-day international record.
All-rounder Mitchell Marsh then took a career-best five for 33 as Australia put in a ruthless Valentine Day's display in the field, dismissing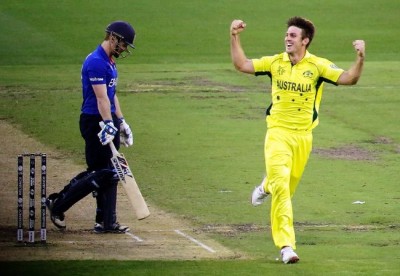 their opponents for 231 with over eight overs to spare.
"I don't think we've made any secret about it, we're here to win the World Cup like 13 other teams are," Finch said.
"I suppose what was great was that everyone contributed either with bat, ball or in the field, so from a team point of view it's really good to see everyone peaking at the right time."
Apart from their bowlers getting flogged and dropped catches, England skipper Eoin Morgan was out for his fourth duck in his last seven innings.
"Probably the most frustrating thing was that we were making errors that we haven't made this trip and again Australia played well, but we had opportunities to take the game to them and we didn't," Morgan said.
"They certainly were the better team and they outplayed us in every department right from the start which is disappointing."
James Taylor's face-saving unbeaten knock of 98 was the lone bright spot but he was denied a century in a confusing finale.
Taylor was adjudged lbw but overturned the decision on review. However, James Anderson was given run out for eight as he went for a single with Taylor's protestations that the ball was dead when he was initially given out failing to impress the umpires. Officials later admitted the umpires got it wrong.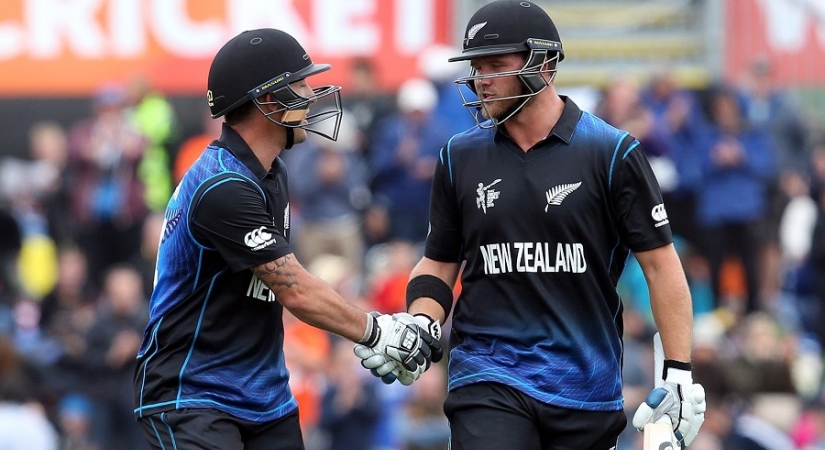 In Christchurch, Kiwi all-rounder Anderson was named man of the match for his 75 and two for 18 double, but the 24-year-old passed the credit to the two veterans in the side.
McCullum, he said, erased any nerves in the side with his rapid 111-run opening partnership with Martin Guptill.
Daniel Vettori then snared the key wickets of Tillakaratne Dilshan and Mahela Jaywardene as New Zealand hammered the Sri Lankan batsmen.
"We had a had a few nerves before the game, being the first World Cup game, but they settled pretty quickly when Brendon and Guppy [Guptill] went about their work," Anderson said.
After an impressive build up to cricket's showpiece ODI tournament the New Zealanders have been installed among the favourites, but Anderson said McCullum made sure the players did not succumb to public pressure. "He said to treat it as another game of cricket and go about your work and keep what began as a juggernaut rolling forward and that's what we did."