GUARDS at Australia's detention center on Manus island are ordered to carry hooked knives.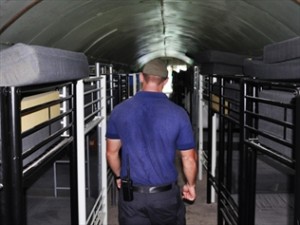 The knives are used to cut ropes when asylum seekers try to hang themselves.
This is the harsh reality of Australia's so-called Pacific Solution.
Here's another reality – in one sleeping area in Foxtrot compound 122 men sleep in a steaming hot, darkened room with no air-conditioning.
Large, industrial fans are spaced unevenly between the beds, leaving little room for people to move.
And another reality: these are men – 1296 of them – living with the dark memories of the February 17 riot that claimed the life of 23-year-old Iranian man Reza Berati.
Broken window panes in the dining hall at Oscar compound, missing windows in Mike compound, bullet holes in a large white container exposing – like wounds – the rusted brown interior.
"They hit him and he fell from here and they hit him till he died," one asylum seeker said of Berati, pointing to a stairwell in Mike compound.
"They hit him in the head until he died." Guards and immigration officials quickly moved us on.
On Friday, a select group of media organisations including AAP was permitted rare access to the centre by court order as part of a Papua New Guinea human rights inquiry into the treatment of asylum seekers.
We were not allowed to interview staff or detainees.
Men in Delta, Foxtrot and Oscar compounds held pictures of Berati.
"Please report this, we want freedom," shouted one man, who gripped tightly onto the shoulder of this journalist.
"Please, we can't sleep. We are scared all the time."
Another became visibly upset. "Six months, seven months, eight months like this here," he said.
"We have no (running) water, no safety."
In Delta compound, media were shown filthy toilets with no running water, while in another compound there were broken showers.
This part of the facility is constructed on the remains of the old Manus Island detention centre, built so the Howard government could implement the first instalment of the Pacific Solution.
Tightly packed shipping containers in rows, each one sleeping four or five men.
Facing each other, the walkway between them is shielded from the heavy and frequent Manus rains by a metal roof.
Peering down, you can barely make out the faces of the men in the dark.
There are vast differences in the quality of the compounds.
While Delta and Foxtrot compounds are extremely run down, others are not.
Mike compound is made up of blazing white shipping containers stacked on top of each other. Each room sleeps four men.
In Oscar compound – made up of a dining hall and large marquee sleeping halls for up to 50 men – showers were broken.
In one of these sleeping halls the words, "you'll never find a rainbow if you keep looking down", are scrawled on a wall above one of the bunk beds.
The beds are spaced about a foot apart.
The court party was informed there are fewer tables in the dining halls since the riot, with none in one compound.
Next to Oscar compound, behind a large corrugated iron fence, is the mental health sleeping quarters.
Inside, a bearded man clutches his violently shaking right hand to his chest.
"I am from Syria, please I want freedom," he said.
Next to Mike compound is "the green zone" where asylum seekers can make calls to their families at night.
But there's nothing safe about it.
An asylum seeker points out a bullet hole in a metal support beam – another memory of February 17.
As the team of court officials and media walks between Oscar and Delta compounds, men hang against the fences and stare at us silently.
One group of about eight men stand with their faces pressed against the rusted metal.
To their right: a sign ordering guards to carry the hooked knives.