Melbourne; Hundreds of people marching for Aboriginal rights have disrupted official Australia Day celebrations in the Melbourne CBD.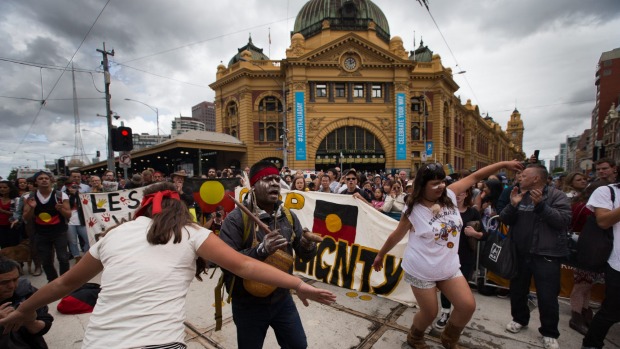 The group – holding Aboriginal flags and chanting "always was, always will be Aboriginal land" – followed the parade down Swanston Street, flanked by police.
The rally came after more than 100 special interest, sporting and cultural groups had marched from the Melbourne Town Hall to Kings Domain as part of the Australia Day Parade.
Thousands of spectators watched the parade, which began with a flag raising ceremony at town hall attended by Victorian Governor Alex Chernov, Premier Daniel Andrews and Opposition Leader Matthew Guy.
he rally that followed was lead by two organisations: Warriors of Aboriginal Resistance and First Nations Liberation.
Organiser Meriki Onus, 27, said the group had earlier gathered at the steps of parliament house to lay flowers in commemoration of Aboriginal people who were killed during white settlement, the Stolen Generation and Aboriginal deaths in custody.
She said January 26 was a day of mourning for Aboriginal people.
"We don't celebrate Australia Day, because Australia Day celebrates genocide," Ms Onus said.
"Today is Invasion Day for Aboriginal people."
As the vocal group marched from Parliament to town hall and on to Birrarung Marr, people chanted "No pride in genocide" and "Always was, always will be Aboriginal land."
Placards carried in the procession included "End the NT intervention" and "Stop deaths in custody".
The rally came to a brief halt at the intersection of St Kilda Road and Flinders Street as members of the crowd burned gum leaves.
Ms Onus said the turnout for the rally was far greater than she had expected.
Djuran Bunjileenee, from First Nations Liberation, said it was important for the wider community to remember the events of January 26.
"Australia Day is the day our land was physically occupied by invaders," Mr Bunjileenee said.
A Victoria Police spokeswoman said police were aware of an Invasion Day protest.
No arrests were made.  (Source; The Age, 26 Jan 6.30pm).