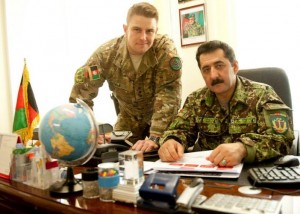 By Our Bureau Chief in Islamabad — According to a report received here an Australian Advisor attached with Australian-led 205th Corps Coalition Advisory Team is embedded with the Afghan Army and working on artillery operations and air space safety with Afghan National Army (ANA).
Captain Cooper Dale the artillery official is working as a special advisor to the Afghan officials to help develop first functional and operational Afghan Tactical Air Coordination (ATAC) unit.
With the help of Australian officials the ANA is able to launch combat attack and secure airspace to ensure safety of aircrafts in the area.
Capt. Dale is attached with the Chief of 205th Hero Corps Artillery Unit and is supervising the training and development of more than 500 ANA officials.
Capt. Dale is pleased with his duty and believed that ANA 205th Hero Corps is winning and holding the strategically important city of Kandahar. It may be recalled that Kandahar served as the HQ of Taliban until 2009-11 and is close to Pakistan border.
However the Australian soldier also warns that "Afghanistan is still a dangerous environment where you have to be on you guard at all times."
Captain Dale is one of about 400 Australian personnel who are based at Kabul and Kandahar, Afghanistan to support the ISAF train, advise and assist mission.