HONG KONG: Asia's markets were mixed on Wednesday as traders were left unimpressed by a weak batch of US economic indicators, although early losses were pared in Tokyo as the dollar staged a rebound against the yen.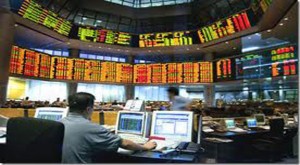 The euro enjoyed a measure of support after European officials raised their growth forecasts as the region slowly recovers from its debilitating debt crisis.
Tokyo dived more than one percent at the open because of a stronger yen but the market rebounded in line with a greenback revival and by the break the Nikkei was 0.13 percent off.
Hong Kong added 0.26 percent, Sydney gained 0.24 percent and Seoul was flat but Shanghai shed 0.18 percent, adding to Tuesday´s losses on fresh liquidity fears.
With no market-moving news expected in the region until the weekend, eyes are on the United States where investors reacted badly to downbeat housing consumer data.
The Case-Shiller index for home prices in 20 leading US cities fell 0.1 percent in December, the second straight monthly decline, while the Conference Board said its consumer confidence index fell to 78.1 in February from 79.4 in January.
On Wall Street the Dow slipped 0.17 percent, the S&P 500 fell 0.13 percent and the Nasdaq gave up 0.13 percent.
The government will release its latest estimate on October-December gross domestic product on Friday, which economists hope will give a better handle on the state of the world´s number one economy.
Tuesday´s news weighed on the dollar, which fell in New York to 102.22 yen. In Tokyo on Wednesday the sell-off continued in initial exchanges, with the unit hitting 102.09 yen before recovering to 102.37 yen in the late morning.
The euro was sitting higher after the European Commission said the 18-nation eurozone was expected to grow 1.2 percent this year and 1.8 percent in 2015, up from November´s estimates for 1.1 percent and 1.7 percent. Similarly, the full 28-member EU´s economy will expand 1.5 percent this year and 2.0 percent in 2015, each also revised up by 0.1 percentage point.
"Recovery is gaining ground in Europe…. Rebalancing of the European economy has been progressing and external competitiveness is improving," EU Economic Affairs Commissioner Olli Rehn said.
"The worst of the crisis may now be behind us, but this is not an invitation to be complacent as the recovery is still modest," Rehn said.
The single currency bought $1.3745 and 140.65 yen compared with $1.3744 and 140.49 yen in US trade.
Oil prices edged up. New York´s main contract, West Texas Intermediate for April delivery, rose 17 cents to $102.00 in early Asian trading, while Brent North Sea crude for April gained 12 cents to $109.63.
Gold fetched $1,338.00 an ounce at 0230 GMT, compared to $1,332.56 late Tuesday.