As fresh produce and meat sells at inflated costs, many Palestinians in Gaza are surviving on emergency food rations.
Gaza City – Ashraf al-Helou knows that whatever chickens he has in stock right now, may be his last.
"Most chicken farms have been destroyed. The livestock was either directly killed by Israel's attacks, or from lack of food and water," al-Helou, 32, tells Media from his shop.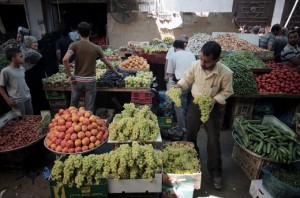 On the phone to his usual supplier, al-Helou explains that the farmer does not have enough chickens left to make a delivery; what he has left will last one more week at most. "If there were restaurants open, we would have run out of chicken about two weeks ago," al-Helou adds.
Before Israel's military operation began in the Gaza Strip, one kilogram of chicken cost 10 NIS ($2.83). Today, with his stocks quickly depleting, al-Helou charges his customers 15 NIS ($4.24).
According to the Gaza health ministry, at least 2,102 Palestinians have been killed, and another 10,540 others injured, since Israel's operation in Gaza began on July 8. Sixty-four Israeli soldiers have also been killed, along with three Israeli civilians and a Thai foreign worker.
Israeli bombings in Gaza have destroyed much of the local infrastructure, including water and electricity supplies. At least 360 factories and workshops have also been damaged in the shelling, including 126 which were completely wrecked, amounting to $47m in damages.
Many of Gaza's farmers and shepherds have been forced to abandon their crops and animals, paralysing agricultural and fishing activities and bringing local food production to a halt, the United Nations Food and Agriculture Organization reported.
"Up to now, ongoing military operations have prevented detailed assessments of damages to agriculture," said Ciro Fiorillo, head of the FAO offices in the West Bank and Gaza Strip, in a statement. The FAO estimates that half of Gaza's poultry stocks have been lost, while Gaza's fishermen have seen their annual catch reduced by 9.3 percent.
Farmer Mohammed Abu Ajwwa told Media about 500 cows were killed on his farm in eastern Gaza City, costing him approximately $500,000. "My business used to provide milk and dairy [products] to a local factory, but now neither the factory, nor my cows, exist," Abu Ajwwa said.
When 51-year-old Umm Ghazi usually goes to the market in central Rafah, in the southern Gaza Strip, her youngest son, Osama, goes with her to help carry the groceries home. For the past week, however, she has not had much to buy or carry back.
"It's not only bad [produce], but it is also unaffordable," says Umm Ghazi, inspecting tomatoes which appear wrinkled and dry, a sign of possible crop dehydration. In some parts of the Gaza Strip, the price of eggs has gone up by 40 percent, potatoes by 42 percent, and tomatoes by 179 percent, the FAO found.
"Twenty-three NIS ($6.50) for a box of eggs, which were 11 NIS ($3.11) a few weeks ago," Umm Ghazi adds, as another customer explains that these eggs are smaller than before, since the chicken farmers have lost most of their livestock.
Prior to the ongoing war, 66 percent of households in Gaza were receiving food assistance, and 72 percent of households were vulnerable to food insecurity, according to the UN's humanitarian office (UN-OCHA). In cooperation with the local ministry of social affairs, the UN has so far provided emergency food assistance to 415,000 out of 730,000 needy people who do not normally receive food assistance.
According to Hossam Madhoun, project coordinator at Maan Development Center in Gaza, inflation has primarily impacted fresh produce and meat, after eastern parts of the strip – home to Gaza's main agricultural zones – came under heavy Israeli bombardment and military ground incursions.
"[During] the two-week closure of Khuzaa, which [comprises] the main part of the vegetable basket of the Gaza Strip … farmers could not cultivate at all. [The vegetables are] rotten," Madhoun tells media, adding that a severe cash shortage has made it difficult for most people, even those with money in the bank, to buy food.
"The canned food is available … in the markets at fair prices, but still most of the people cannot buy it," he says. "Even when the war ends, the food situation is deteriorating and I don't see that [this problem] is going to be eliminated unless there is a huge campaign [to have] infrastructure enter Gaza [and] jobs to rebuild."