The political crisis in Pakistan remains at fever pitch as both the PML-N led government and the protesting Pakistan Tehreek-i-Insaf and Pakistan Awami Tehreek refuse to budge on their respective positions.
Prime Minister Nawaz Sharif stands firm in the face of growing pressure for his resignation, and the protesting PTI and PAT are adamant on standing their ground in the capital's high-security red zone.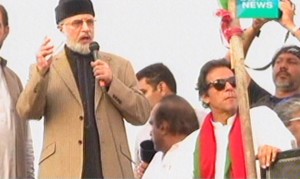 Violent clashes have taken place over the last 72 hours, leaving at least three dead and hundreds injured. Speculation and conspiracy theories are widespread, the most popular of which sees the powerful military as somehow engineering the ongoing crisis. This view is a consequence of numerous events, the most recent being PTI President Javed Hashmi's allegations that Imran Khan said the current crisis is following a script dictated by the military.
Amid the rallying calls for the PM's resignation and an overthrow of the system, all eyes are on the Supreme Court and the army as the deadlock continues.