KARACHI: Karachi Airport's old terminal has been attacked by heavily armed assailants on Sunday night, Tribune International reported.
Pakistan Army troops have been called in to deal with the situation and troops from Malir Cantonment have been dispatched. Intermittent firing continues at the airport.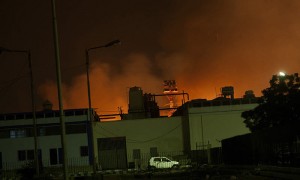 According to Tribune International, five Airport Security Force (ASF) personnel have been killed in the attack. A hand grenade attack was carried out on the Isphani Hanger.
The attackers are said to have forged fake ID cards of ASF and entered the area. Some eight to ten attackers are said to be engaged in a gun battle with security forces.
According to Tribune International, suicide bombers are part of the terrorist squad that has infiltrated the airport.
The terrorists carried out the attack from three different sides, officials said.
Large plumes of smoke have been seen over the cargo terminal.
Tribune International reported that two terrorists managed to get inside a plane.
One plane each of PIA and AirBlue and a cargo plane of a foreign company have been damaged. The firing came to a halt for some fifteen minutes but resumed again.
Heavy contingents of police and Rangers have surrounded the airport and routes to the airport have been sealed.
Staff is being rescued by the security personnel and moved to safer areas.
Rescue teams are being allowed after being checked thoroughly.
Prime Minister Mian Nawaz Sharif has called DG Rangers Sindh and asked him to ensure the safety of passengers.