Thousands of protesters from across Spain called for an end to austerity measures amid the country's economic crisis.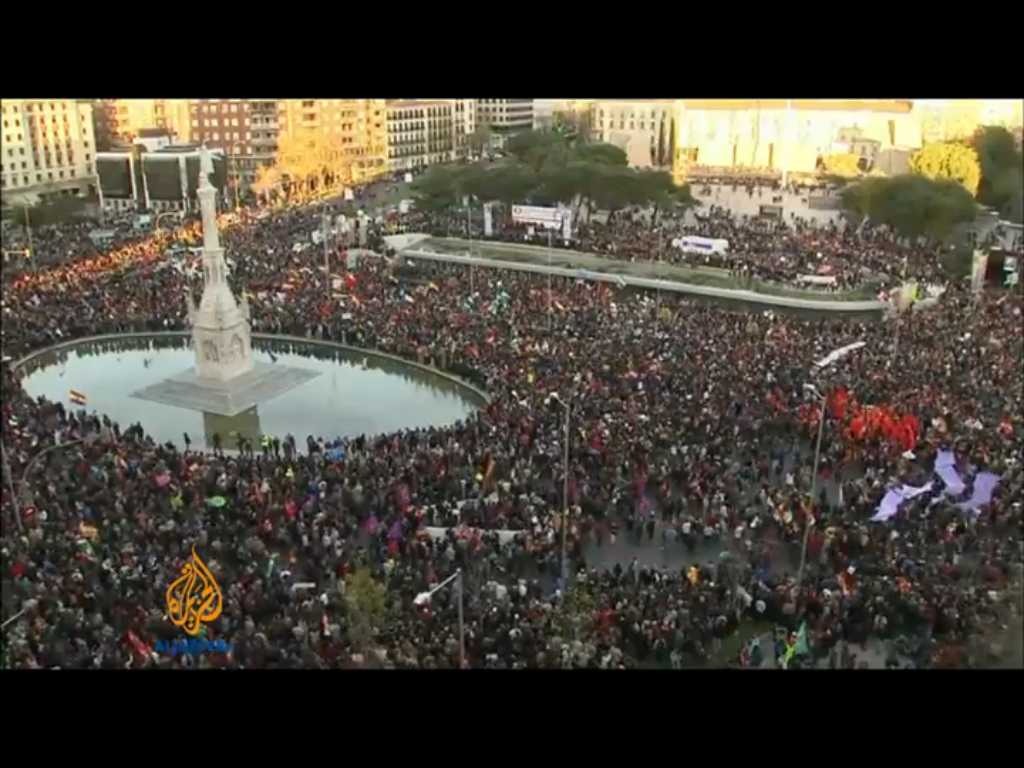 Tens of thousands of protesters from across Spain converged in Madrid, calling for an end to EU-imposed austerity that has deepened poverty among the worst-off.
The "Dignity Marches" brought tens of thousands of people to the capital on Saturday, in support of more than 160 different causes including employment, housing, health and education.
Banners urged the conservative government not to pay its international debts and to tackle an unemployment rate of 26 percent, according to Reuters news agency.
The Organisation for Economic Cooperation and Development [OECD] says the economic crisis has hit Spain's poor more than in any other country in the 20-member group.
"I'm here to fight for my children's future," said Michael Nadeau, a 44-year-old entrepreneur, among the throng of protesters.
"For those who are in power we're just numbers. They value money more than they value people," he said.
Bubble burst
A housing bubble burst more than five years ago, forcing a 41bn euro ($56 bn) bailout of the country's banks, squeezing homeowners and throwing millions of people out of work.
The government introduced public sector austerity measures to whittle down the deficit, provoking anger among middle and low income families.
Several groups attending Saturday's march had walked hundreds of kilometres from regions such as Asturias in the north and Andalusia in the south.
Official estimates of participants were not yet available, a police spokesman said, although march organisers earlier this week said they were expecting around 65,000 people.
Spain tentatively exited a recession in the second half of 2013, but unemployment soared with a labour reform which reduced the cost of hiring and firing.
The hoped-for boost in jobs has yet to materialise.