Palestinian president backs Cairo-mediated talks to avoid more 'casualties and sacrifices' amid new airstrikes in Gaza.
Palestinian President Mahmoud Abbas has called for the urgent resumption of the Cairo-mediated talks between Israel and the Palestinians to end the Gaza crisis that entered its 47th day.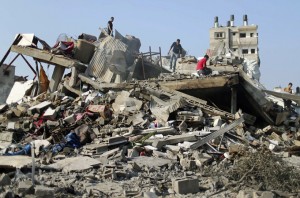 "My main goal is for the truce talks to resume in Egypt as soon as possible to avoid more casualties and sacrifices", Abbas said during a news conference on Saturday after meeting Egyptian President Abdel Fattah el-Sisi.
They broke down in Cairo last week leading to a resumption of hostilities after a week-long ceasefire.
The final solution to the Gaza crisis will be proposed before the Arab League based on the Egyptian proposal, Abbas said.
The Palestinian president and Hamas's exiled leader Khaled Meshaal issued an appeal on Friday urging the UN to draw up a "timetable" for the Israeli occupation of Palestinian territories to end, Qatar state media said.
The two Palestinian leaders held talks in Doha, which were hosted by the emir of Qatar, a key backer of Hamas.
Meanwhile, a senior Hamas leader who has been taking part in the Cairo negotiations has confirmed that the group will back any Palestinian bid to join the International Criminal Court (ICC).
According to Moussa Abu Marzouk, Hamas has signed a paper of support requested by the Palestinian president.
War crimes
In the occupied West Bank, reporter reported from Hebron, that Hamas supporters clashed with Palestinian security forces while demonstrating against Israel.
The Palestinian police fired stun grenades and tear gas to disperse protesters. Demonstrators accused the security forces of collaborating with the Israeli army.
Palestinians accuse Israel of war crimes in Gaza because of its attacks on civilians. If Palestine did join the ICC, it would mean Hamas could also be investigated.
This comes as seven people, including five from one family, were killed in new Israeli airstrikes in central Gaza.
The deadliest Israeli attack on Saturday leveled a home in Al-Zawayda in central Gaza, killing a couple, their sons aged three and four, and a 45-year-old aunt, medics said.
The Israeli military said it had carried out about 20 airstrikes over the Gaza Strip early on Saturday. Israeli officials said that more than 80 rockets were fired from Gaza on Friday.
Witnesses and Palestinian officials said two mosques were destroyed in the Khan Yunis area of southern Gaza, while a third, in the Shati refugee camp, which had already been damaged, was bombed again.
Earlier on Friday, Hamas executed 18 Palestinians it had suspected of collaborating with Israel.
According to the Palestinian health ministry, 2102 have been killed and 10,540 have been injured since the fighting began on July 8th.