By Alan Perrott

It's the odd thing about New Zealand actors: the further away they go the more visible they can become.
And judging by our television schedules, it's more than likely that our current crop of merry players are our most visible yet. They continually pop up in the unlikeliest places – big budget Marvel spin-offs, British morning television, American crime shows and pretty much anything that comes out of Australia – with brand new accents and bigger paychecks.
Shows like Shortland Street must take much of the credit, given any fast turnover soap opera's unending thirst for new, unwrinkled faces to maintain their appeal to young eyes, which is a fantastic thing for any budding actor wanting exposure, right up to point they find themselves overexposed. Once you've done that one show too many as a doe-eyed, lovelorn teen, you're forever a doe-eyed, lovelorn teen. Just ask Martin Henderson.
Actors call it "the Shortland Street Curse," a malady that strikes when your onscreen role extinguishes your real name and renders you invisible to every casting agent in the country, and they spend hours discussing ways to overcome it. For the most part these strategies fall into three camps, give up and move behind the camera, give up and get a new job, or don't give up and move. In the case of the latter it seems the ancient cry of the adventurer still holds true: Go West.
The logic is unarguable. Australia almost speaks the same language, they produce way more telly than we do, visas don't require forests of paperwork, and mum and dad are only ever a few hours away.
Obviously this isn't a recent discovery. James Laurenson helped kick things off in 1971 when the expat New Zealander was shipped out from England to play Aboriginal Detective Inspector Napoleon Bonaparte in the Australian crime show, Boney. More followed – the likes of Alan Dale, John Clarke, Rima Te Wiata, Russell Crowe, and all manner of theatre luvvies – but it took a while for the idea to catch on big time: the lights of London and LA will always seem brighter. Still, enough actors have now established themselves there to create a support network of sorts and that is a game changer, even if it only means you can find a familiar shoulder to cry on.
Okay, that's not the only change. Communication technology and easy travel have opened the world up like never before, so little wonder George Mason thought all he had to do was turn up. He's part of a new, fresh-faced wave gone west to try their luck (and seeing as how he's already being papped by photographers he might have been right).
Mason has been acting, one way or another, since he played a school bully at 15 in the 2005 Stewart Main-directed film Fifty Ways of Saying Fabulous. He was smitten and, with his parents' support, set about auditioning his way from Invercargill to Wellington and then on to Auckland where he had a run on Shortland Street before getting his first lead role in Go Girls. The recipe seemed clear, you work hard, you get rewarded, so why would Sydney be any different? His confidence was such that when Go Girls was cancelled he not only bought a ticket to Sydney, he grabbed another for Los Angeles (one way, via Bali) where he also expected to find instant work.
"I was probably a bit naive, but I'm always looking for the next move, always up for having a crack. So I thought I'd just fly over, get an agent and start working … it turned out it wasn't as easy as I thought."
He landed in Sydney in August 2013 and made a beeline for the biggest agents in Australia. If the famous acting faces covering every wall were intimidating enough, their icy response, "Yeah, thanks but we're not really looking to take anyone on right now," definitely cooled his jets.
So he moved on to the next biggest. Same result. Oh well, he had some mates there, "want to meet for a pint?" "Sorry mate, we're all at work, maybe another time."
All Mason could do was see as many people as possible then hunker down and fire off a daily barrage of calls to see if anyone had watched his showreel CV. After a few months he realised he was an unemployed 24-year-old in a country that was rapidly eating into his savings. He had even been forced to borrow from his parents. It was decision time, so he moved again, this time to Melbourne where he found work nannying and labouring which was rather depressing. Then a friend suggested he contact Kiwi actor done good in Oz, Danielle Cormack. After all, she'd endured similar yards and ended up in the core cast for Rake, then starred in the Prisoner remake, Wentworth.
"I didn't know her from a bar of soap," says Mason, "but I wrote her a note and she said sure, let's meet for coffee." Before he knew it her agent was making him a offer. This was much more like it and, with 2014 fast approaching, he auditioned for a pilot being shot by Channel 7. Two weeks acting work was more than welcome except that he fell into a holding pattern for several more months as they decided whether to go with it or not. Not, as it turned out, but never mind they called him in to audition for the role of Ash in Home and Away. That'll do for starters he thought: "I mean I knew the show, I'd watched it when I was younger, but I had no idea of the scale of it."
It turned out playing a handsome, unpolished, larrikin Aussie was a natural fit. He's settled quite nicely into the Summer Bay community and the madness that revolves around it. The actors have permanent camera-wielding shadows whose shots appear everywhere the show screens. The Daily Mail website (Home and Away is huge in Britain) has taken a particular instant shine to him: "Mason's luscious locks were pulled back as he oozed sex appeal with a hint of tempting facial hair."
Indeed.
"So yeah, it doesn't really feel like I've hit the big time yet, for me it's just a job, a really good job, and it's great fun. I mean I have all these friends here now who work on all sorts of fantastic dramas, but they don't have anywhere near as much hoohah as the stuff that comes with Home and Away. It's kind of scary how normal it's become."
At least Morgana O'Reilly had a husband (film maker Peter Salmon) to prop her up during the hard times. The pair went over for a look in 2012 and then "hopscotched" back and forth for several frustrating years before finally committing themselves. Now, and despite her own best efforts, she's a central character on that other seemingly endless Australian serial, Neighbours.
The notion behind the shift was the thought that she'll always be close enough to home to zip back again whenever work comes up: "You might say I get to keep multiple fingers in both pies. I mean [what to do next] is something actors have always talked about on a recreational level, but really the answer is always different because everyone will be at different stages in their career. Being a working actor is hard enough as it is without worrying too much about where you want to do it … "
Unlike Mason, they sorted out agents before moving, then spent time in Sydney and Melbourne before deciding where they wanted to live. Sydney's beaches won.
Work still didn't come easily. "I remember thinking 'why isn't anything happening?' Then realised we'd only been here for a measly two weeks, but then two weeks feels like two months when you're unemployed and all your hopes are on the line."
It didn't help that O'Reilly was regularly returning home for a variety of fantastic projects, then, all fired up, she'd return to Sydney to shoot television ads for the likes of the Outback Steakhouse. "It felt like a double life, I'd go from being totally inspired to clinging on to the bottom rung in the space of three-hour flight. It was soul destroying really. I ended up doing maybe 50 auditions and got about three months' work."
Then in late 2013 she was invited to try out for the part of (naughty) Naomi Canning in Neighbours. She was sent a script which she acted out in front of their garage as her husband filmed.
They were so impressed with the result they wanted to sign her up for three years. For money.
Good news, right?
"Well, I'm 29. I'm getting old in actor years, which sounds ridiculous I know, but three years? Right now that sounds like an eternity. Don't get me wrong, I was really grateful for it, but I'm not going to say 'yes' out of desperation. What if it's awful?"
So she went back to them: "How about 18 months?"
It didn't end there either. Not expecting steady work, O'Reilly had a big year already planned. There was her solo show in New Zealand and Edinburgh and she'd signed on for a training course in New York. "Can I have some time off as well?" she asked. Remember, she hadn't even started yet. "When they say you can't have your cake and eat it … whatever, why did you bother making it then? Thankfully they were awesome."
Playing hard to get clearly still works, even if the slap the writers added to one scene carried a little extra sting. And she occasionally has to deal with the bleating of her fellow actors who aren't exactly thrilled about the Kiwi actors stealing the plum roles. She uses maths as a defence: "Yeah, they do talk about all these New Zealanders supposedly coming over. But really there isn't all that many of us in New Zealand to begin with, so when they say a lot, it's never going to be many. Twenty tops I'd say, more than that just isn't possible."
Hopefully no-one raised this issue with Ido Drent because they might not have appreciated his response.
After serving time on Shortland Street, the 27-year-old opted not to follow his old workmates to the United States because it felt too big. No, Australia was the place to find a leg up into the big time and he couldn't wait to get started – his last scene was shot on a Friday in August 2012 and he was off to Sydney the next morning. It helped that he had someone on his side, Auckland agent Karen Kay, who got her charge a prize interview with Australian big wheels Mullinars Casting the following Tuesday.
The big wheels heard him out then gave him a script with instructions to shoot it by the end of the week, "But I didn't know anyone and they didn't seem all that excited in me … it was a bit of a downer."
He was still puzzling things one out when Kay called: RGM Artists wanted to see him on Thursday. It turned out they pretty much wanted to sign him on the spot. "That was massive for me, a big turning point." Then Mullinars called back, forget the script, they said, come and do an audition instead. Things were heating up.
Drent came home to consider his options – he was leaning toward RGM – when Mullinars called yet again. They wanted him to audition for House Husband and while he was at it could he possibly film this script from Offspring, a very big show in Australian terms. He recruited Kimberley Crossman and shot it on a little flip camera at her place with a lawnmower and noisy birds as an unavoidable soundtrack. A few days later RGM called and it came up that Mullinars had cancelled his House Husband audition. "What? Why?" sputtered Drent. "Oh, you don't know?" they said, "hang on, we'll call you back."
Five minutes later his phone rang again, he'd been offered the role on Offspring and being a nice chap Ido immediately flew to Sydney to deliver a box of cupcakes in thanks. After all he'd secured fulltime employment on just the stepping stone he'd hoped for in less than two months – not that he was trumpeting the fact. "I kept pretty quiet about everything really. Rather than going around shouting 'hey look at me'. I wasn't looking at it as make or break or a blockbuster or anything, it was more the first step on what I hope will be a long career. But I was still pretty nervous … "
He impressed the writers enough for his character, Dr Lawrence Pethbridge, to be elevated into the core cast for the final series, kicking off here this month. Drent was still absorbing that news when he was asked to audition for the part of the drummer in an INXS mini-series Never Tear Us Apart; he'd played drums up until he was 12, but still had to borrow sticks from a mate.
Drent's improbable plan was coming up golden with his rock star stint nestling nicely between Offspring shoots while also leaving time for an American holiday with his wife, Mandy. Finding themselves (likely story) in LA with a free week seemed the perfect opportunity to meet people. Kay again got him into the biggest player, CAA, and while it went well Drent felt they were too big for him. Off he then went to Principato Young Entertainment to met the woman who looks after John Malkovich among others. They signed him straight away and his excitement was such he'd have swum back to America once Offspring wrapped if it hadn't been for the small matter of starring in the New Zealand production When We Went to War, a local television drama made to mark the 2015 centenary of Gallipoli.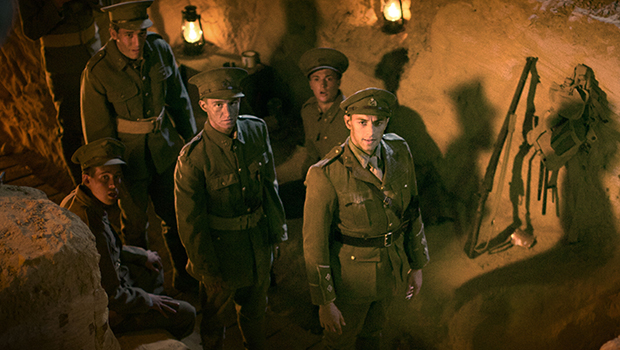 He's now back in America for pilot season, about to turn 28 and, more importantly, about to become a dad. As he says it's been a crazy few years, but he also feels he's part of something bigger.
"You have to thank the actors who went ahead, they were the ones who set up the pathways and that gives everyone who follows the confidence to take that big mental step because it really is a huge sacrifice and an enormous risk.
"It doesn't matter how talented you are, if your face isn't right for the time you won't get work. But right now there are Kiwis making waves everywhere which is so cool to see, I mean look how small our community, our industry, is here [in New Zealand] and then look at how big a punch we're packing. You've got to love being part of that."
Neighbours is screening on TV2, Offspring is on TV One from January 29 and Home and Away restarts on TV2 in February.
– NZ Herald