West Bank: Three Palestinians were killed on Saturday in confrontations with Israeli forces in the occupied West Bank, Palestinian security officials said.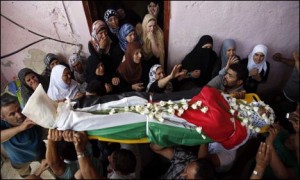 Officials and witnesses said at least one of those killed was a militant in the Islamist Hamas group, while the identities of other victims were not immediately clear. The Israeli military had no immediate comment.
Israel periodically raids parts of the West Bank to arrest militants
suspected of involvement in violence against Israel. The clashes occurred in the northern West Bank area of Jenin, erupting three days after Israeli troops killed a Palestinian youth elsewhere in the West Bank.
Palestinian officials said before Saturday´s incident that Israeli forces have killed 57 Palestinians and injured almost 900 since the resumption of peace talks last July.
The U.S.-brokered negotiations have shown little progress as an April deadline set by U.S. Secretary of State John Kerry looms. The talks are aimed at achieving Palestinian statehood alongside Israel in territory Israel captured in a 1967 war.