Sydney was drenched in a kaleidoscope of colours last night when the switch was flicked on the city's Vivid light and music spectacular
SYDNEY – The streets of Sydney and its iconic landmarks, including the Opera House and the Museum of Contemporary Art, became backdrops to the world's largest light festival as the 2015 Vivid Sydney festival was launched on Friday.
Comprising stunning light installations, live music, street performances and public talks, the annual festival is jam packed with activities to thrill the senses.
Currently in its seventh year, Vivid Sydney has grown into a massive event, with projections and installations spanning the city from Circular Quay to Darling Harbour, to The University of Sydney.
From 22 May until June 8, Sydney will pulse to the beat of the award-winning Vivid Sydney Festival, back bigger and better than ever with more than 60 light art installations, the coolest new musical collaborations and inspirational ideas from the world's leading innovators.
Last night's wet start to the spectacular failed to keep crowds away, the most talked-about precincts of 2015 being the Sydney Opera House and the new Chatswood precinct.
In conjunction with Local Measure, the leading local social intelligence company, The Daily Telegraph will this year provide its readers with the most socially active precincts and light installations according to collated shares, tags, tweets, check-ins and photos.
The most instagrammed light displays last night included the incredible birds on the Opera House Sails, the purple trees projected on Customs House and the fluro sky rise buildings at Circular Quay.
More than 1.4million people swarmed the light displays last year, and again artists, designers and manufacturers from around Australia and the world will illuminate, interpret and transform Sydney's urban spaces for 18 nights through their creative vision.
Vivid Sydney features many of the world's most important creative industry forums, a mesmerising free public exhibition of outdoor lighting sculptures and installations and a cutting-edge contemporary music program.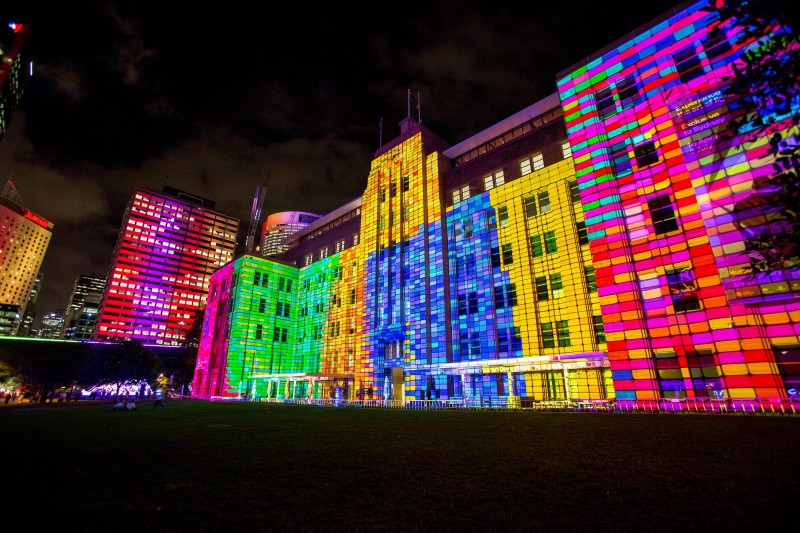 Vivid Sydney 2015 to boost NSW economy
Vivid Sydney 2015 is one of a number of sporting and cultural events expected to attract hundreds of thousands of local, interstate and overseas visitors to Sydney and contribute an overall estimated $50m to the NSW economy.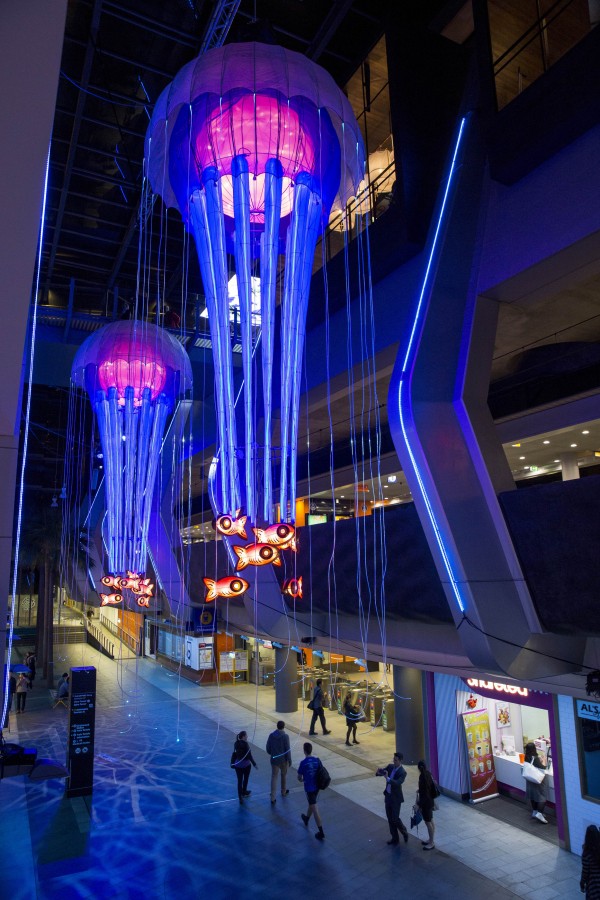 The festival of light, music and ideas is predicted to be even bigger than last year's event, where almost one and a half million people attended over an 18 day period, contributing more than $20m to the economy.
Delivering its biggest program to date, the festival will be held in a number of new locations this year, including inner city Central Park and the lower north shore suburb of Chatswood.
"It's wonderful to see the success of Vivid Sydney spread into the city's suburbs to allow even more people to experience what is now the world's largest festival of Light, Music and Ideas," said NSW Minister for Trade, Tourism and Major Events, Stuart Ayres.
With China the number one inbound visitor market for NSW, the state government has also launched a Vivid Sydney mobile app in China, hoping to boost tourism interest in the future by sharing images of some of Sydney's most iconic buildings during the festival on its Weibo and WeChat accounts.
"Vivid Sydney is firmly established as a highlight on the world's festivals and major events calendars, attracting a record 1.43 million attendees in 2014," said Destination NSW chief executive, Sandra Chipchase
"In fact, more than 9,700 visitors from China travelled to Sydney on Vivid Sydney travel packages last year and we are aiming to see this visitation grow through new Vivid Sydney campaigns and activities."
In addition to Vivid, the NSW Government is hoping upcoming sporting events such as Super Rugby grand final rematch between NSW Waratahs and Crusaders and the State of Origin game one will provide a boost to the economy in the final week of May.