GlobalData Released; Unmanned maritime vehicles (UMVs) are expected to play a significant role in future naval warfare. Developments in Ukraine have shown the world that unmanned maritime platforms can effectively operate hundreds of miles away from their home ports. Against this backdrop, the size of the UMV market is forecast to reach over $3.1 billion by 2033, a projected increase of over $1.9 billion driven by a growing number of applications for littoral warfare, according to GlobalData, a leading data and analytics company.
GlobalData's latest report, 'Thematic Intelligence: Unmanned Maritime Vehicles,' highlights the projected expansion of the UMV market over the next decade, forecasting growth in the unmanned surface vehicle (USV) market from $894 million in 2023 to over $2.1 billion in 2033, while expenditures in the UUVs market are expected to increase from $379 million in 2023 to $965 million in 2033.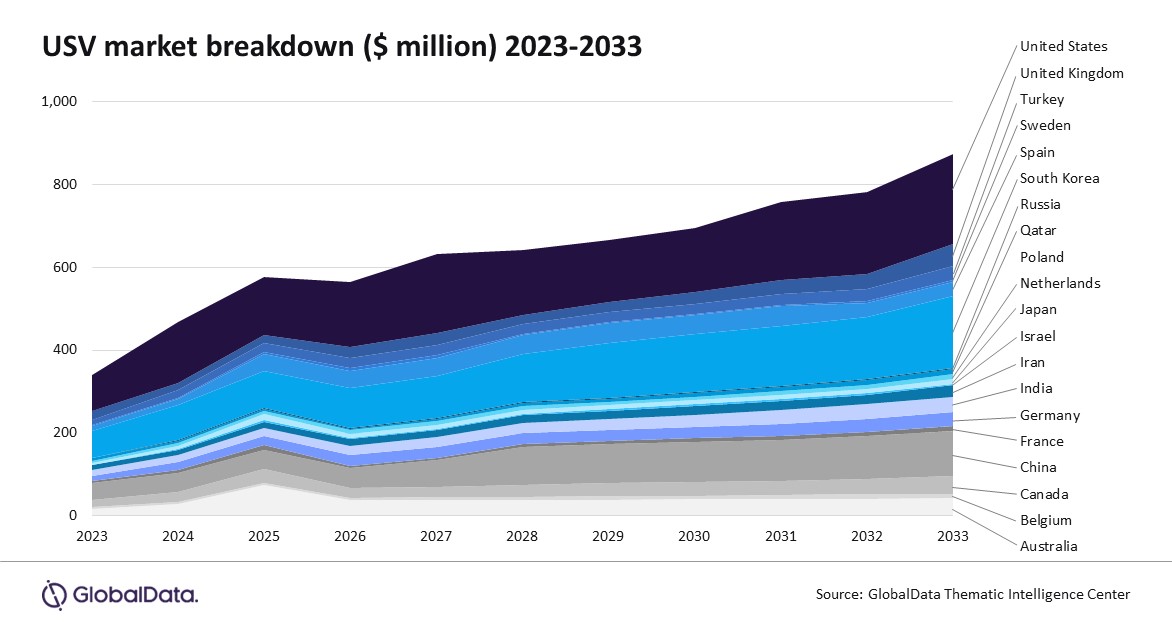 Recently, there has been a push from major world powers to investigate the feasibility of combat-capable extra-large UUVs (XLUUVs). China, India, France, South Korea, and Israel are all currently exploring the potential for torpedo launching XLUUVs and their viability in naval combat. The development of combat XLUUVs could result in the proliferation of UUVs over conventional submarines, as the necessity of human presence could be eradicated and thus radically alter the global balance of naval power.
Knight continues: "The emergence of combat-capable UMV designs mirrors the wider trend throughout the global defense sector whereby military organizations are increasingly weaponizing unmanned systems across the air, land, and naval domains in order to capitalize on the outsized cost-to-benefit ratio such platforms provide when compared to both conventionally manned platforms and unguided munitions."
There has been considerable interest in the swarm capabilities of USVs and micro UUVs, as well as the concept of the USV mothership. The utility of Low-Cost Unmanned Swarm Technologies (LOCUST) and their effectiveness in the naval domain have been proven in their continued application during the conflict in Ukraine, potentially paving the way for interest in swarms of micro-UUVs.
Knight adds: "The continued lack of effective countermeasures to the threat posed by swarms of low-cost and expendable unmanned platforms has allowed such systems to proliferate on various modern battlefields, and though challenges specific to the maritime sector had previously limited the UMV market's potential, the upward trend in investment, development, and employment is indicative of this technology's vast economic and strategic potential over the coming decades."
Designs of USV-carriers or USV motherships have warranted interest from various firms, with South Korea recently announcing that they have awarded a contract to Hanwha Ocean to investigate the feasibility of such a concept.
Knight concludes: "The UMV market is expected to develop and diversify significantly over the next decade, even though the technology remains in its infancy. Recent advancements in fields such as energy management, artificial intelligence (AI), sensor networking and hull design enable novel applications and avenues for development. Innovation will likely involve the enhancement in sensors, autonomous functionality, modularity, and underwater communications. Furthermore, as AI continues to evolve over the next 10 years, the UUV market, in particular, will likely expand due to demand for autonomous capabilities in submerged environments."
ENDS