Ceasefire between Pro-Russian separatists and military forces in eastern Ukraine went into effect on Friday evening.
Ukraine and pro-Russian rebels have had a shaky start to a ceasefire aimed at ending nearly five months of fighting in the country's east.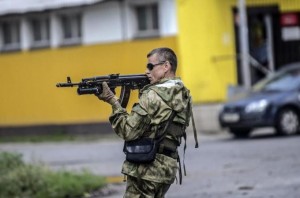 Three explosions were heard north of Donetsk just minutes after a ceasefire between Kiev and pro-Russian rebels went into effect on Friday, the Reuters news agency reported.
The ceasefire otherwise appeared to be holding, but there would have to be a serious rebuilding of trust between both sides to ensure a cessation of hostilities adding that the tension would not die down anytime soon.
Ukraine's President Petro Poroshenko had ordered government forces to cease fire at 6pm (15:00 GMT) following an agreement signed at talks attended by representatives of Ukraine, Russia, the rebels and the OSCE in Minsk, Belarus.
"I am ordering the head of the general staff of the armed forces of Ukraine to halt fire starting at 6pm," Poroshenko said in a statement published on his official website.
The separatists were represented by leaders from the self-proclaimed Donetsk People's Republic and Luhansk People's Republic, including rebel Prime Minister Alexander Zakharchenko.
The negotiations followed talks between Russian President Vladimir Putin and Poroshenko in Minsk last week.
NATO head, Anders Fogh Rasmussen, welcomed the agreement that sought to end to end fighting that has killed an estimated 2,600 people in the east of the country.
Rasmussen said the next "crucial step is to implement it in good faith … but so far, so good," adding he hoped it "could be the start of a constructive political process".
Russia has denied being actively involved in the war, but Ukraine and the Western NATO alliance say that regular Russian troops and tanks are fighting on the rebels' side.
Ukrainian Prime Minister Arseniy Yatsenyuk had called for the United States and Europe to act as guarantors to the ceasefire.
"It must be supported by the United States and the EU. We will not manage with Russia on our own… we need guarantees," Yatsenyuk told a cabinet meeting moments before rebels announced that a truce deal had been agreed.
Combat continued on the outskirts of the strategic Ukrainian port city of Mariupol on Friday, ahead of the truce announcement.
Mariupol became a major focus of concern for Ukraine after the rebels broke out of their main strongholds further north in late August.
The new offensive has raised concerns the rebels are aiming to seize Mariupol, a major port of about 500,000 people, and create a land corridor between Russia and Crimea, the Black Sea peninsula that Russia annexed in March.