Sydney (Media Release 3 Sep 2014): Trade and Investment Minister Andrew Robb today welcomed the release of data showing tourism exports are now worth over $30 billion a year.
Tourism Research Australia's International Visitor Survey for the year ending June 2014 reveals record arrivals from eight of Australia's key markets: New Zealand, USA, China, Singapore, Malaysia, Hong Kong, India and Germany.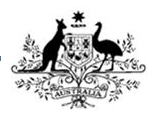 These figures come at a time when there is a reported $20 billion worth of prospective investment in new Australian tourism infrastructure at the high-quality end of the market.
"Tourism is one of our great strengths and under the Abbott Government; the industry is finally receiving the attention it deserves. We are pursuing an aggressive investment agenda to ensure we develop the infrastructure required to cater for the growing international demand," Mr Robb said.
"Tourism Australia has received record levels of funding, tourism is a national investment priority, the Passenger Movement Charge has been frozen and the Carbon Tax has been abolished."
The Abbott Government is also providing:
$43 million for a new Tourism Demand-Driver Infrastructure Programme

$10 million in new funding for the Australia-China Approved Destination Status (ADS) scheme

$2 million to support the staging of Australia Week in China (AWIC) again in 2016.