Sydney ( Saturday 11 Feb 2017, Tribune's Report); The record-breaking heat in Sydney could not break the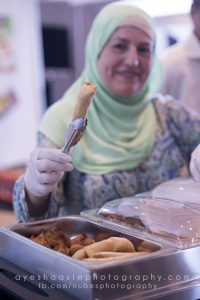 temperature of the participants of the Halal Expo Australia 2017. DAY 1 of the Halal Expo Australia (HEA) 2017 defined a new image of Halal Expo Australia where over 90 local and international showcased their products & services, a classic structured display of their products was amazing reflecting a new image of multicultural Australia. The temperature in Sydney was touching 45 degrees yet the people from far distances coming in groups with interval in the entire day and total number at the end of the first day was over 2000. The mood of the exhibitors and the visitors was amazing and looking cool in the air-conditioned facility of the Grand Pavilion hall. Another interesting part of the HEA 2017 is the International Halal Conference (IHC) 2017 running side-by-side of the HEA 2017 at level 1 of Grand Pavilion. The DAY 1 of the IHC 2017 started at 10AM with the opening ceremony full enthusiasm of the speakers, guests and attendees. The opening ceremony was chaired by H.E Dr. Obaid Al Ketbi, the Ambassador of United Arab Emirate. Dr. Yayan G. H. Mulyana, Consul General Indonesia, Mr. Shahrezan bin Md Sheriff, Vice Consul, Malaysian Consulate, Sydney, Hon Julie Owen, Local Federal and Hon Geof Lee, Local NSW MP were among other local and international dignitaries.
12 speakers, Dr. Amin Hady, sheikh Shady Al Suleiman, Dr. Haja Sittie Shayma (Zenaida) P. HR. Laidan (Philippine), Mr. Keysar Trad, Dr. Sirajuddin Bin Suhaimee (Malaysia), Dr. Muhammad Khan, Professor Dr. Pakorn Priyakorn (Thailand), Dr. Abu Saleh, Dr. Nur Rahman (Brunei), Mr. Nick Farncomb,Dr. Jan A. Ali and Syed Atiq ul Hassan spoke in DAY 1 delivered 3 sessions, Halal Lifestyle, Halal Certification, and Halal Trade & Economy containing 2 topics. The conference is the first of its kind in Australia. All the foreign speakers were amazed to see the growing interest of people. DAY 2 of conference fully loaded with exciting sessions and 2 workshop and one break-out special session to be delivered by H.E Nabil bin Ameen Molla, Secretary General Gulf Standard Organisation, Saudi Arabia. A large crowed is expected today (Sunday) with the families. Details of the event is available on www.halalexpo.com.au . Below are few images of DAY 1.