A message on Good Friday
by Father Peter Confeggi
Priest of St Patrick's Blacktown, NSW
Shortly after the recent bushfires at Springwood I went with a number of parishioners to deliver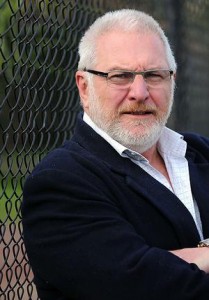 the overwhelmingly generous gifts of the people of Blacktown for those who had lost homes.
Dividing past houses-one taking & another left- there was a stark reminder of the game of chance that the Australian bush often plays with us. Arriving at the church grounds there was an eerie vision of death & the lingering smell of fire. Flames had burned within metres of the church, reducing trees to lifeless charcoal columns. Amazingly, air conditioning units on the school wall had been destroyed while the walls remained unharmed.
Just a few weeks ago I was in Springwood to visit a friend at that same school. Driving into the same property just a few months later, I could hardly believe the transformation of the landscape. More importantly new homes were emerging. Devastation was giving way to new life!
That pattern of dying & rising is planted deep in our Australian DNA. On this desert continent we live in a land of extremes; drought & flood, fire & cyclone! Our experience is so often one of battle with the landscape, a struggle that so often gives rise to a resilience which forms part of our national character.
The pattern of dying & rising, so starkly imprinted on the Australian landscape & psyche, is a constant reminder of that deeper dying & rising that the Christian churches celebrate this Easter Weekend, The Christian truth made manifest in the Death & Resurrection of Jesus reminds us than all suffering & can be transformed with hope.
Like the charcoal trunks of Springwood, where all life seemed stripped away, it is good that we stand silent before starkness of the Cross, This day invites us to return again on Easter morn, to claim the new shoots of risen life. Together these days invite we Blacktown Catholics to be, despite many challenges, a people of hope with faith in our future.