Sydney (Press Release): Schools across the country are invited to register for one of Australia's key anti‑bullying events, the 2014 National Day of Action against Bullying and Violence.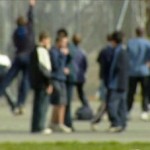 The day – to be celebrated on Friday, 21 March 2014 – was established in 2011 as a way for schools to take a stand together and promote the important work they are doing to stop bullying and violence.
Minister for Education, the Hon Christopher Pyne MP said the National Day of Action against Bullying and Violence provides schools the chance to examine their anti-bullying policies.
"There's nothing more important than ensuring that young Australians get a great education. Central to this is ensuring that when students are at school they feel safe and secure and can focus on their studies," Mr Pyne said.
"It's also a great opportunity for schools to involve students and the community in activities and events that promote a safe and supportive school environment."
"It is also an opportunity to look at how the Coalition's policies to increase autonomy in schools and encourage parents to become more engaged in their child's education could lead to improved student behaviour.
Parliamentary Secretary to the Minister for Education, Senator Scott Ryan, encouraged schools to visit www.bullyingnoway.gov.au to register for the 2014 event.
"The National Day of Action against Bullying and Violence is a great way for schools to share ideas about how we can make school a safer place for all students as well as teachers, parents and families," Senator Ryan said.
"In 2013, more than 644,000 students, in 1,485 schools, participated in the event.
"We're hoping even more schools can take part this year, and send a strong message to students and the community that bullying of any form is not okay."
Schools that register for the 2014 National Day of Action will receive regular updates about the event, as well as information about activities they can run in their own school.
Schools will also have access to resources and promotional material to help make the day a success.
The National Day of Action against Bullying and Violence is an initiative of the Safe and Supportive School Communities Working Group, which includes education representatives from the Australian Government, state and territory governments, and the Catholic and independent schooling sectors. Schools can register to participate in the day by visiting  www.bullyingnoway.gov.au.