LOS ANGELES: Fox TV's Teen Choice Awards (TCA) 2014 were in for an unexpected angry rebuttal as the Twitter trend of #TeensChoiceAwards was overtaken by #TeensDontHaveAChoiceAwards.
The latter became the top trending Twitter hash tag on Sunday during the Fox broadcast of the ceremony after web celebrities exposed the rigging process of the votes.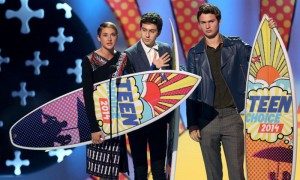 This year, the show was co-hosted by Tyler Posey of Teen Wolf and Sarah Hyland of Modern Family, who confirmed that 165 million votes were cast online for the 16th annual awards.
Fox's TCA, which is a highly awaited event amongst young people, hands out surfboard trophies to movie, music, TV and fashion icons, that bag the highest teen votes.
The show was backfired when these stars exposed the rigged voting procedure on Twitter.
After losing the "Choice Web Star: Male" to famous Youtube personality, Tyler Oakley (25 years old with 2.85 million followers), Vine sensation Cameron Dallas (18 year old with 3.31 m followers) started to tweet bitterly about how the voting had been rigged.
According to Washington Post, Dallas won the "Choice Viner", but was apparently still bitter to lose in the "Web Star" category to Oakley.