By NSW Premier, Barry O'Farrell 
This week the NSW Liberals and Nationals Government announced the removal of retail price regulation from the state's electricity market, meaning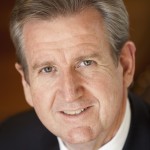 greater competition and lower electricity prices for many households and businesses.
From 1 July regulatory changes will mean, for the first time in 15 years, over one million customers currently on a regulated price will see a reduction in their electricity charges.
This landmark reform will remove one of the main barriers to lower power prices. From now on retailers will need to work harder and offer better deals to win and hold on to customers.
After the previous Labor Government left behind a legacy of double-digit electricity price rises, the NSW Liberals & Nationals Government has implemented sensible market reforms to drive greater competition and reduce the infrastructure cost burden being passed onto customers.
There are more than 40 companies with licences to sell electricity in NSW, however only 16 are currently active.  This reform will create more competition by enticing the remaining 29 companies to get off the fence and start operating in NSW.
The removal of retail electricity price regulation comes off the back of advice from the Australian Energy Market Commission (AEMC) and the NSW Independent Pricing and Regulatory Tribunal (IPART).
Their analysis showed our electricity market is strong, regulation is unnecessary and the current system may be inhibiting price competition.
The AEMC report highlights that an average household bill of $2,500 per year could be slashed by up to $400 simply by taking advantage of deals offered for retail customers on competitive market contracts.
Already more than 60% of households and small businesses have made the switch from a regulated electricity price to a competitive market contract, and are reaping the benefits.
This reform is about encouraging the remaining 1.3 million NSW electricity customers to switch to a competitive market offer and take control of how much they pay for electricity.
From 1 July 2014 those customers who have not switched to a competitive market deal will automatically be transferred to a 'transitional tariff'.
For most households on a transitional tariff, their bill will be 1.5% lower in the first year compared with the former regulated price, however many market offers may be even cheaper.
This reform will not change access to energy rebates, protection laws or the quality of electricity supply and IPART will continue to monitor the market and analyse competition indicators.
By removing retail electricity price regulation the NSW Liberals & Nationals Government is empowering NSW households and businesses to make the best choice for their circumstances.