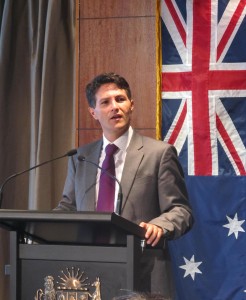 Minister for Aboriginal Affairs Victor Dominello has introduced legislation to empower the State's 120 Aboriginal Land Councils by improving accountability, efficiency and economic capacity as well as helping to ease the backlog of 26,000 land rights claims.
Mr Dominello said the changes, which follow the first statutory review of the Aboriginal Land Rights Act 1983 in over 30 years, will enable speedier resolution of land claims.
The Act, which established the network of Aboriginal Land Councils, provides a mechanism to claim and manage unused Crown land as compensation for "historic dispossession". The network also provides for services, training, employment and business opportunities.
"Economic empowerment, reduction of red tape and strengthening accountability are at the heart of this legislation," Mr Dominello said.
"This historic reform will for the first time see voluntary negotiations on the bulk settlement of land claims, helping to take the economic handbrake off land councils.
"Extensive consultation, including nine public forums held across the State, identified a number of issues which need to be addressed to enable the land rights network to flourish into the future."
The reforms will:
• Enable the NSW Government and land councils to enter into voluntary and legally binding negotiations on land transfer and use, reducing the need to engage in costly and lengthy claims determination processes;
• Enable land councils to take advantage of economic development opportunities by clarifying that they can engage in business enterprises and establish corporate entities;
• Removes the need for land councils to comply with two parallel schemes to obtain approval to run social housing programs;
• Allow the Registrar to appoint specialist advisors to support land councils to improve governance arrangements and strengthen their capacity; and
• Increase maximum penalties for breaches of the Act; and
• Establish additional grounds for appointment of administrators in order to protect community assets.
"I would like to thank all those who contributed to this reform, which will help ensure the next generation of Aboriginal leaders have a sound platform to secure sustainable and prosperous futures for their communities," Mr Dominello said.
In December 2011 a Working Group, chaired by the Registrar and including the CEO of the NSW Aboriginal Land Council and two members of Local Aboriginal Land Councils, was established.
The Working Group made recommendations in November 2012 and this resulted in a Statutory Review Report, tabled today in Parliament at the same time as the Bill was introduced.