NSW Premier Mike Baird hosted an event for the Indian Hindu community in celebration of Deepavali, the Hindu festival of light, at NSW Parliament. Mr Baird was joined by Minister for Citizenship and Communities Victor Dominello, to light a traditional diya (a ceremonial lamp) at the start of the event. The festival was celebrated with music, food and dance from the Indian subcontinent.
"Deepavali is celebrated by Hindus across the world and the lighting of the diya signifies the lifting of spiritual darkness and the renewal of life," Mr Baird said adding: "We are fortunate to live in a multicultural society that encourages us to learn about each other's customs and traditions, and partake in festivals such as Deepavali."
"Tonight we celebrate our diversity and it's a positive sign of our maturity that a festival, which would have been unknown to most of us even a couple decades ago, is now recognised by the NSW Parliament. Deepavali is a joyous and colourful festival that has messages all of us can embrace. "It is another wonderful gift to the people of NSW, which immigrants have brought here and shared with us," he said.
Mr Dominello said Deepavali celebrations in NSW had flourished over the past decade with the number of residents from India and the sub-continent growing to over 200,000.
"Deepavali has been celebrated by Hindus and Indians of other faiths for centuries, so the way our young country has embraced and promoted this ancient festival is a matter of considerable pride.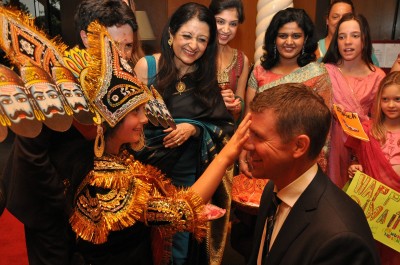 "The NSW Government signalled its respect for Deepavali by lighting up the sails of Sydney Opera House at the start of the festival last month, as well as NSW Parliament House, which remains lit until this evening.
"Although Deepavali is now celebrated all over NSW and at a number of major festivals, an official celebration in the NSW Parliament is a major statement about how this State views diversity. "Members of parliament have joined with community leaders to celebrate the triumph of light over dark and good over evil – the universal message of the festival," he said.