Protesters take to streets in capital New Delhi, as frustration mounts over power cuts amid soaring temperatures.
Protests have broken out in India's capital, New Delhi, overnight over power blackouts as summer temperatures soar, heightening concerns of a repeat of an electricity crisis two years ago, police have said.
Residents took to the streets at around midnight on Tuesday in New Delhi's northeast, attacking vehicles as frustration mounted over the power cuts, a senior officer said.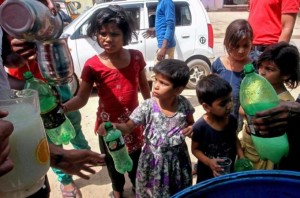 "So far we have arrested three people for damaging a bus and a gypsy (a jeep) while protesting power cuts in Bhajanpura area," additional commissioner of Delhi police, VV Chaudhary, told AFP news agency.
Power outages mainly in northern India have been triggered by a spike in demand as temperatures have crossed past 45 degree celcius (113 degrees Fahrenheit), leaving a dilapidated electricity infrastructure unable to cope.
Riots erupted over the weekend in the northern state of Uttar Pradesh, with residents storming a substation near the state capital, Lucknow.
The Delhi government announced emergency-power saving measures on Sunday, including cutting electricity at the city's shopping malls, turning off street lights and ordering government offices to switch off air conditioners at certain times.
Damage to some transmission lines during a recent major thunderstorm in Delhi, home to more than 16 million people, has added to the problems.
Poorly maintained lines
A political row has erupted over the cuts, with new federal Power Minister Piyush Goyal blaming the city's previous Congress government for outdated infrastructure, as authorities scramble to address the problems.
New Prime Minister Narendra Modi and his right-wing Bharatiya Janata Party swept to power last month on a pledge to reform the economy, including strengthening energy security and boosting development of solar power.
India has long struggled to meet rapidly rising demand in Asia's third largest economy, with poorly maintained transmission lines and overloaded grids.
A power crisis two years ago blacked out half the country and left more than 600 million people without electricity.
As temperatures exceeded 45 degrees Celsius, social workers warned on Wednesday of the deadly consequences for homeless people.
"There has been a rise in the number of deaths among Delhi's homeless in this heatwave," said Sunil Kumar Aledia, a member of the Centre For Holistic Development.