LAHORE: Pakistan on Wednesday appointed former Test captain Rashid Latif as chief selector and tasked him with helping in the fight against corruption.
The straight-talking 45-year-old is known for taking a stand against match-fixing, which has dogged cricket in Pakistan over the years.
"Latif accepted the offer to become the chief selector with effect from 1st April 2014," said a Pakistan Cricket Board (PCB) release.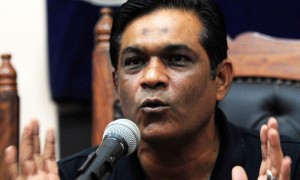 The position was left vacant after the appointment of another former captain, Aamir Sohail, was cancelled by the new PCB chairman Najam Sethi earlier this month.
Sohail had been appointed chief selector and director of game development by Zaka Ashraf, who was replaced as PCB chairman on February 10.
The PCB said Latif will also assist in giving training and lectures on anti-corruption matters.
Latif said he was excited at the challenge.
"I will endeavour to build a strong team, keeping in view the ICC cricket World Cup 2015," he said in the release.
"I will also assist PCB in whatever way I can in anti-corruption matters,"said Latif, who famously blew the whistle on his team-mates in 1994.
His stance forced the government to initiate an inquiry into match-fixing, which resulted in a life ban for former captain Salim Malik and fines for Wasim Akram, Waqar Younis, Mushtaq Ahmed, Inzamam-ul Haq and Saeed Anwar.
PCB chairman Sethi hailed Latif's nomination.
"I have keenly followed his forthright views on cricket in the past and I trust he will be able to bring about positive change in our cricket," Sethi said.
Latif played 37 Tests and 166 one-day internationals for Pakistan as a wicketkeeper-batsman.