ISLAMABAD: In a largely empty session, Parliament opened on Monday, during which members made statements defending the Constitution and institutions of Pakistan.
Muttahida Qaumi Movement (MQM) leader Babar Ghauri said that Parliament was the representative of the peoples will and that the institution was not made for the people to fight and bicker with each other.
He also said that "We must not criticise any state institution and that Parliament must be respected".
"Pakistan Army is responsible in defending Parliament as per Constitution. We must not criticize any state institution…. Parliaments will must be respected," said Ghauri.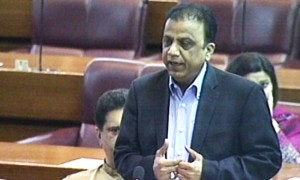 "The prime minister should not resign, we are all united in support of democracy," he said.
Minister for Planning and Development Ahsan Iqbal appealed to the protesting parties to end their sit-in.
"Tomorrow, we will again speak with the Pakistan Awami Tehreek," said Ahsan Iqbal.
He said that all attempts were being made to resolve the issue peacefully.
The session continues in the backdrop of thousands of supporters of Pakistan Tehreek-i-Insaf (PTI) Chairman Imran Khan and PAT chief Tahirul Qadri camped outside parliament since August 15 demanding Nawaz Sharif resign as prime minister.
Khan alleges the 2013 general election that swept Sharif to power in a landslide was rigged, though international observers said the vote was largely free and fair.
Qadri has demanded wholesale changes to Pakistan's political system and called for an interim "unity government" while they are implemented.
The leaders have drawn thousands to the streets of Islamabad, but their call has not mobilized mass support in the country.
Sharif's government has also come under fire for asking the army to mediate in the political crisis.
Interior Minister Chaudhry Ali Nisar Khan has told parliament that the protesters' unwillingness to trust anyone had left no alternative but army mediation.
The move has raised fears of increased military dominance over the civilian government in the country.