Different circles in Pakistan are holding in-house discussions on an idea to explore the possibility to promote Pakistan armed forces Chief of Staff General Raheel Sharif as a Field Marshal, or a five-star general, according to IRIA.
The idea is being under discussion not only within government circle but also by intellectuals and senior journalists.
At a gathering of senior intellectuals, retired bureaucrats and religious figures in Islamabad on April 25, 2015 a senior journalist, Editor-in-Chief of Pakistan Observer Mr. Zahid Malik proposed "as General Raheel Sharif has emerged as a decisive stabilizing factor in Pakistan, therefore, he deserves to be promoted to the rank of Field Marshal".
The proposal was warmly welcomed by leading strategist Jamshed Ayaz Khan, security expert and writer Ikram Sehgal and businessmen including Mian Mehmood, President of Pakistan-Saudi Arabia Joint Chamber of Commerce & Industry.
Sources close to official Government circle privately confirm reports that the idea had little or no opposition in Pakistan particularly in the backdrop of General Raheel Sharif's refusal to destabilize democracy in Pakistan when "Long March" almost undermined the authority of political government.
Another important reason to justify decoration of Field Marshal to General Raheel Sharif is his lead role in war against terrorism which posed existential threats to Pakistan during 2009-2015.
General Raheel Sharif has successfully commanded Operation "Zarb-e-Azb" and made courageous move to evicted most of the terrorists from North Waziristan.
General Raheel Sharif is also regarded as a game changer with his military and diplomatic approach to turn tension into cooperation. This change was evident vis-a-vis Afghanistan as soon as General Raheel Sharif took office of COAS.
Political sources say that Prime Minister Nawaz Sharif is now comfortable with General Raheel Sharif and is keen to see a "joint move" on key geo-strategic issues so as to bridge the gap between civilian and military approaches.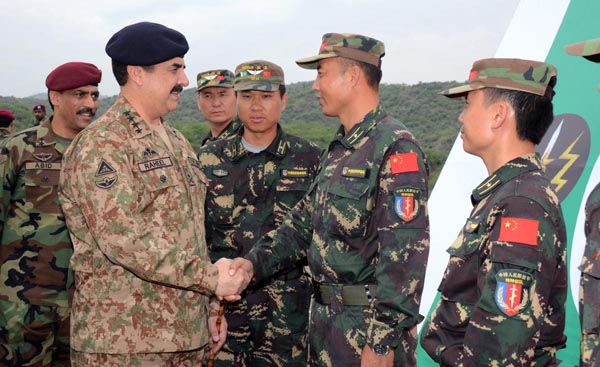 Sources in Pakistan are also arguing that General Raheel Sharif's contribution to secure the nation from terrorism, neutralization of threats to democracy and reforming game-changer approaches with China, the United States, Russia and Afghanistan are enough reasons to see him as next Field Marshal in Pakistan after a gap of fifty years when the then General Ayub Khan was decorated as Field Marshal in 1965.
Idea promoters reason that Sri Lankan Chief of Defence Staff, Sarath Fonseka was recently promoted to the rank of Field Marshal for his contribution against terrorism while General Raheel Sharif has many features to his success list.
Courtesy: IRIA