KARACHI: Pakistani stocks tumbled over 666 points on day Monday, with the market continuing the free-fall it had witnessed on the last trading day before Eidul Fitr holidays.
At the close of the day's trading, the benchmark Karachi Stock Exchange 100-index (KSE-100) had fallen 2.20 per cent, or 666.24 points, to 29,647.83.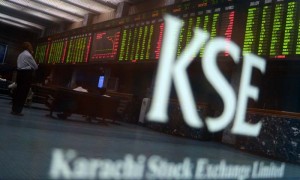 During trading, the course hit a low of 29,435.84 points, coming down from an opening of 30,314.07 points.
Analysts attributed the fall to political tensions after opposition party Pakistan Tehreek-i-Insaf (PTI) announced it would hold a 'million' march in Islamabad on August 14.
A global sell-off in equity markets last week also affected local sentiments.
Oil and Gas Development Co Ltd fell 3.56 per cent to 265.93 rupees and Pakistan State Oil Co Ltd was down 4.41 per cent at 385.06 rupees.
Investors were similarly spooked by the political scenario last Monday – the last trading day before Eidul Fitr holidays – with the KSE-100 index declining by 160.68 points or 0.53pc to settle at 30,314.07 points.
In the currency market, the Pakistani rupee ended steady at 98.75/98.82 per dollar.
Overnight rates in the money market ended flat at 10.00 per cent.