Sydney (Report by Syed Atiq ul Hassan): Members of the Pakistani Hazara Community in particular and Pakistani
Community in general gathered, today, at the business centre of Sydney, in thousands, and protested against the lawlessness in particularly in the city of Quetta and in Pakistan in general.  The protesters who comprised of children, women and adults, gathered at the Martin Place in front of Pakistani Consulate Office, strongly condemned the government of Pakistan on failing to provide the security to the Hazara Community in Pakistan. They demanded to sack the civilian government and give control to the army in Balochistan. The speakers, women and men, loudly denounced the rulers of Pakistan and said that the members of the Hazara Community have been targeting brutally by target killing and bomb blast for more than a year now and the law enforcement agencies failed to capture any criminals yet. The event was mainly organised the local organisation of the Hazara Community in Sydney.
The protesters wanted Consulate General to come out from his office and speak, after a long protest Mr. Mohammed Azam, the Consulate General, finally appeared in front of the crowd and delivered a short message on behalf of the government of Pakistan promising to bring peace in Pakistan particularly in Quetta.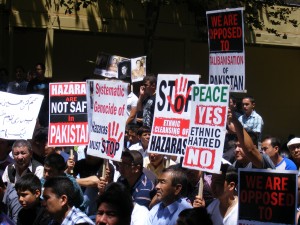 It is to be noted that the demonstration was called on Monday at 11am and it was a working day in Sydney where office and educational centres are open but the turning up of hundreds of children, youth and working people were showing the deep concern of the attendees about the on-going killings and terrorists attack in Pakistan.
The similar kind of demonstration is also being organised in the second big city of Australia – Melbourne where hundreds of people are expected to attend the protest against the killings of the members of the Hazara Community in Baluchistan (Pakistan).
The protestors were holding play-cards stating, 'Stop killing of Harzara community in Pakistan'; 'Stop killing of Shias in Pakistan' and so on.
Please note that hundreds of innocent people particularly members of Hazara and Shia community have been killed by targeted terrorist attacks in the last year or so. In the recent attack 87 people were killed and couple of hundreds injured in a bomb blasts since then the family members of the martyrs placed their bodies on the roads and demanded the government to sack the provincial government of Baluchistan and declare Governor-rule with army in state to control the law and order.