Sydney (Tribune International Report): People were queuing in hundreds before the gate opened at 10am for the first Australian Halal Expo held yesterday (Sunday) at Fairfield Showground. Over 100 exhibitors with lots of activities in the entire day with celebrities including Bachar Houli and Amina Elshafei and fireworks at 8pm created an amazing atmosphere for the families.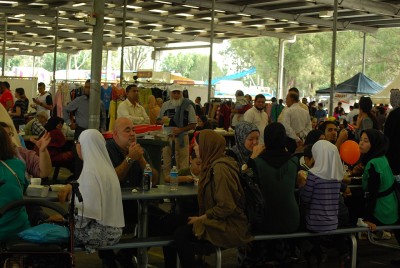 The first Halal Food Expo was held on Sunday 12 April at Fairfield Showground. 'There had been lots of talk about event on social media in the last couple of months, finally the event concluded on the main thing, that Australians love multicultural events, respect reach others culture, tradition and way of life' says Syed Atiq ul Hassan, the Director, Halal Food Expo 2015.
It is unusual for any new event that thousands of people turned up at the launching event, however, it was expected in Halal Food Expo 2015 as the organisers were receiving overwhelming response on social media and through emails to attend the events. The people from different ethnic background within Islamic community were in majority however there were people from non-Islamic background also attended in significant numbers with families in this festival-style exhibition.
There were over 100 exhibitors including over 30 food vendors of various ethnic foods placed their stalls having delicious halal cuisines.  Exciting amusements & rides were busy whole day children and adults whereas there was 4 hours animal show for the kids in the exhibition hall. Various Islamic groups performed in different times on stage, official ceremony started at 2pm where Honourable Guy Zangari a local parliamentarian of Fairfield was the Chief Guest along with many other local community leaders, councillors, and diplomats.
Hon Guy Zangari in his speech, paid tribute to the organisers and also thanked them for choosing Fairfield Showground for holding the first Australian Halal Exhibition. He said, he would be happy to see this event to be held in Fairfield being the most diversified population of New South Wales.
AFL Star Bashar Houli came from Victoria, spent most of his time on Fettaleh Small Goods stall and meeting people and making pictures with his fans. Amina Elshafei, a famous MasterChef contestant, mingled with people spent busy time with meeting people and making pictures with her fans.
Little Explorers TV show had an exciting show for the kids with Little Chef Yaaseen holding a special cooking demonstration for his little explorers' fans at the event and also Little Hamza and Brother Muhammad making his appearance at the show filling the room with laughter. The kids in the audience had a chance to meet, greet and get signed autographs from the Little Explorer crew that left many smiles on their faces.
The United Muslim Women Association, special chef Ms Farida Ouchenir, held a cooking demonstration at the Expo with beautiful decorated sweet making from Algeria, and prepared "Marzipan Fruit" on the day.
The official ceremony included special distinguished guests including Consul for the Consulate of Malaysian (Education section) Ms Puan Suzzaini Abdullah, and Pakistani Consulate General Mr Abdul Aziz Uqaili attended the event.
The audience were mesmerised by the beautiful Nasheed performances by Ahbab-Al- Mustafa Nasheed group along with Malaysian Nasheed group Hope during the day.
Throughout the event people were seen tasting delicious multicultural cuisine at various stalls with many mentioning that there was so many different type of food items to taste. The live cake preparation by Cake Palace at their stall left people wanting more hot fresh cakes to taste. Many of the exhibitors in the evening said that the event was such a huge success with many having sold out their food.
The event concluded with a spectacular fireworks display at 8pm that all the attendees celebrated and enjoyed the success of the first Halal Food expo in Australia.
The Event Manager, Sarwat Hassan, thanked the major sponsors Fatteyleh small goods, Universal Pharmaceuticals, MCCA, ABW Foods, Crescent Wealth (Islamic Super), Halal Enterprises, ABC Family Day Care, Triforce Sports, Little Explorer, Samaras Restaurants, United Muslim Association and other community organisations, Fairfield Council, Local Police Station, Volunteers and other stakeholders for their remarkable support, contribution and help.
(Halal Food Expo 2015 is a family friendly event that aims to raise awareness and promote halal food, products and services in Australia. The details are available on www.halalfoodexhibition.com )