US president says the government in Pyongyang would "rather starve its people than feed their hopes and dreams".
North Korea is a weak "pariah state" whose heavily militarised border with the South marks "freedom's frontier", US President Barack Obama told American troops in Seoul.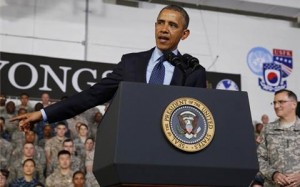 The border between of the two countries is a division between a "democracy that is growing and a pariah state that would rather starve its people than feed their hopes and dreams", he said on Saturday.
Pyongyang's continued pursuit of nuclear weapons is "a path that leads only to more isolation", said Obama, as he dismissed the Stalinist state's apparent preparations for a nuclear test.
The alleged preparations came despite stringent sanctions imposed by the international community.
"Anybody can make threats. That does not make you strong. Those things don't come through force, they have to be earned."
Obama also said the US-South Korean alliance was as "strong as it has ever been".
"We don't hesitate to use our military might to defend our allies and our way of life," he told cheering troops and air force personnel.
'Firm message'
Obama, who met his South Korean counterpart Park Geun-hye on Friday in Seoul, warned that the two countries would respond firmly to any "provocations," according to Reuters news agency.
In March, North Korea warned it would not rule out a "new form" of nuclear test to boost its nuclear deterrent, after the UN Security Council condemned Pyongyang's launch of a mid-range ballistic missile into the sea east of the peninsula.
Recent satellite data shows continued work at the nuclear test site in North Korea, although experts analysing the data say that preparations do not appear to have progressed far enough for an imminent test.
"When North Korea is threatening further provocations and publicly discussing the possibility of a further nuclear test, President Obama's visit to South Korea will send a firm message that North Korea's provocations will not be tolerated," Park told a joint news conference.
The two presidents were speaking after a summit in Seoul, the second stop of a four-nation Asia tour for Obama.
Al Jazeera's Harry Fawcett, reporting from Seoul, said indications that North Korea was preparing for a nuclear test had come out regularly in the past couple of weeks.
He said the South Korean defence ministry had been monitoring increased activity at the Punggye-ri nuclear test site, adding that a "detonation could perhaps be imminent".