ISLAMABAD: Prime Minister Nawaz Sharif said Monday that his government faced no threat from the Pakistan Tehreek-i-Insaf's (PTI) planned 'Azadi' march on August 14 in Islamabad.
Presiding over a consultative meeting of the Pakistan Muslim League – Nawaz (PML-N), Nawaz claimed that his government was not one to fear any form of protest, and said that political problems should only be resolved politically.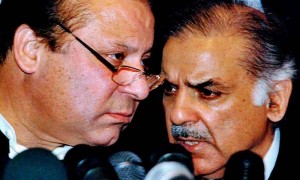 According to Press, the meeting discussed strategies to deal with PTI's planned 'million' march, as well as the opposition in the National Assembly session scheduled to begin later today.
The meeting was attended by top leaders, including the Khyber Pakhtunkhwa Governor Sardar Mahtab Ahmad Khan, Punjab Governor Muhammad Sarwar, Chief Minister Punjab Shahbaz Sharif, Ishaq Dar, Pervez Rashid, Chaudhary Nisar, Ahsan Iqbal, Abdul Qadir Baloch, Irfan Siddiqui, Hamza Shahbaz, Rana Sanaullah, Rana Mashhood, Shahid Khaqan Abbasi, and Rana Maqbool.