Interim peace agreement seeks to halt low-level armed struggle waged by Renamo opposition against Frelimo ruling party.
Mozambique's former rebel group Renamo and the Frelimo-led government have signed a ceasefire deal, ending two years of armed conflict, ahead of a presidential election scheduled for October 15.
Chief negotiators from the government and Renamo signed the declaration late on Sunday night in the capital Maputo, ending a nearly year-long negotiation process.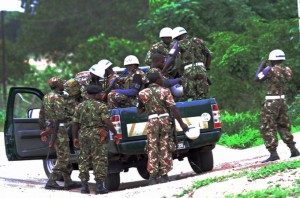 "A ceasefire has been signed," Renamo's chief negotiator at the peace talks with the government, Saimon Macuiane, told the AFP news agency, adding that the "definitive agreement" was effective as of 20:00 GMT on Sunday.
Renamo forces have waged a low-level armed struggle since party leader Afonso Dhlakama returned to the bush in 2012, two decades after he signed a peace accord with the ruling Frelimo party.
Men thought to be members of the former rebel movement have been attacking buses, trucks and cars on the main north-south highway since April last year.
Government forces overran the Renamo base camp in the central Gorongosa district a few months later in August.
The late night declaration came after the two sides reached a general peace agreement a week ago, including consensus over the integration of Renamo's remaining armed forces into state security forces.
Rebel leader in hiding
Dhlakama, who has been hiding in the remote Gorongosa mountains in central Sofala province for close to a year, did not travel to the capital to sign the ceasefire himself, despite previously promising he would do so once his party reached a final agreement with the government.
"He mandated me to declare it," Macuiane said but suggested Dhlakama would meet Mozambique's President Armando Guebuza at a later date.
"It is obvious that there will be a high level, symbolic meeting later on," he said.
Under terms agreed with the government, Dhlakama expects to keep his personal "security guards" [numbering several hundred] until they can be integrated into state forces, a process that will be overseen by an international force.
Similarly, Renamo only expects to hand over its remaining weapons after the integration process has begun.
"We have begun a new era for the country," Macuiane said, calling the ceasefire an "important step towards national reconciliation … and a durable peace".
Parliament is expected to begin working to create conditions as set out in the peace agreement in the coming week.
Despite the ceasefire, Renamo and the government will continue negotiations as not all points have been settled including "economic questions" and the status of Renamo appointees into security structures, Macuiane said.
The date set for presidential and national polls, October 15, remains unchanged, Macuiane indicated.
The ceasefire will also allow Dhlakama to leave his bush base and campaign for the elections.
The constitution bars Guebuza from running for a third term and former Defence Minister Filipe Nyusi will run as the Frelimo candidate.
Whoever wins the vote will face the challenging task of bringing to fruition major coal and offshore natural gas investment projects that have the potential to bring billions of dollars to a nation that was in ruins two decades ago.