Canberra (Press Release): Minister for Immigration and Border Protection, the Hon Scott Morrison today congratulated the Australian Customs and Border Protection Service's (ACBPS) actions in preventing 183 kilograms of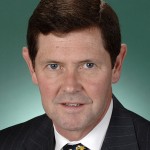 methamphetamine hitting Australian streets.
"Vigilant Customs and Border Protection officers have detected and prevented another threat on our borders from making its way into the Australian community, denying smugglers a chance to flood the streets with methamphetamine valued at approximately $180 million," Minister Morrison said.
"The operation began last week when ACBPS officers at the Sydney Container Examination Facility selected a container for x-ray inspection which revealed anomalies with a consignment of 27 sea kayaks.
"The examination revealed 19 of the kayaks contained packages of a white crystallised substance initial testing of which returned a positive reading for Methamphetamine.
"The successful operation involving the Australian Federal Police, has led to the arrest of four foreign nationals and an Australian.
"This latest haul demonstrates the benefits of ACBPS's approach to target and identify high risk illicit cargo which has resulted in record illicit drug seizures and other prohibited goods by the ACBPS and which the Abbott Government last month announced will be boosted.
"The Abbott Government has provided $88 million of additional funding to the ACBPS which will increase screening and examination of international mail, air cargo and sea cargo.
"The funding includes $3.7 million to provide eight additional officers to support the intelligence activities necessary to target and identify high risk illicit cargo.
"Customs and Border Protection will increase inspections of high risk cargo and mail and also increase the intensity of examinations which will maximise the potential for stopping illegal firearms and drugs before they hit our streets.
"Inspection rates of international mail and air cargo will increase by 25 and 33 per cent respectively and the examination of sea cargo in the major ports of Sydney and Melbourne will increase by nearly 20 per cent.
"This will result in an additional 1500 TEU (twenty-foot equivalent unit) containers being physically examined by ACBPS officers in sea cargo environment.
"The Abbott Government is serious about combatting all threats on our borders and is ensuring that our Australian Customs and Border Protection Service is properly funded to meet those threats," Minister Morrison said.