Prime Minister, who has fled to South Africa, confirms that army has taken over government buildings.
Military units in Lesotho have surrounded government and police buildings and gunfire has been heard in the small mountainous southern African kingdom, in what diplomats said appeared to be an attempted coup.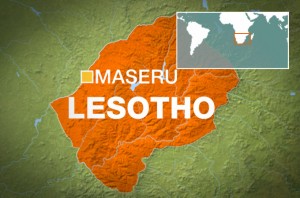 The military seized control of the tiny police headquarters and jammed radio stations and phones in the early hours on Saturday, a government minister and member of the ruling coalition told the AFP news agency.
Prime Minister Tom Thabane confirmed that coup was indeed under way in his country and that he has now moved to South Africa.
"The armed forces, the special forces of Lesotho, have taken the headquarters of the police," Thesele Maseribane, sports minister and leader of the Basotho National Party, said, describing a possible coup attempt in the small nation located in eastern South Africa.
"The [military] commander said he was looking for me, the prime minister and the deputy prime minister to take us to the king. In our country, that means a coup," he said.
But Maseribane insisted the prime minister's government was still in control of the landlocked nation, which is located within eastern South Africa.
An AFP photographer reported shots ringing out in the early morning hours, and said a reinforced military contingent was guarding the prime minister's official residence and that soldiers were patrolling the streets of the capital Maseru.
The streets of the capital were calm, residents said, although some shops remained closed.
South African radio stations also reported that private radio stations were off the air in the nation.
The army is on the street in vehicles, and appear to have taken control of the police station in the capital.
"This is unhappy news for South Africa's government who tried to mediate after an attempted coup in June this year, when parliament was closed.
"This could be move by the Lesotho Congress Party to demand the reopening of parliament."
Feuding coalition
Political tensions have been running high in the landlocked country since June when Prime Minister Thabane suspended the country's parliament to avoid a no-confidence vote amid feuding in the two-year-old coalition government.
Deputy Prime Minister Mothetjoa Metsing had vowed to form a new coalition that would oust Thabane.
South Africa and the regional Southern African Development Community, of which Lesotho is a member, have warned the political rivals in the country that any unconstitutional change of government would not be tolerated.
Since independence in 1966, Lesotho has undergone a number of military coups.
In 1998, at least 58 locals and eight South African soldiers died and large parts of Maseru were damaged during a political stand-off and subsequent fighting.