Relatives demanding answers over missing plane march on Malaysian embassy in Beijing.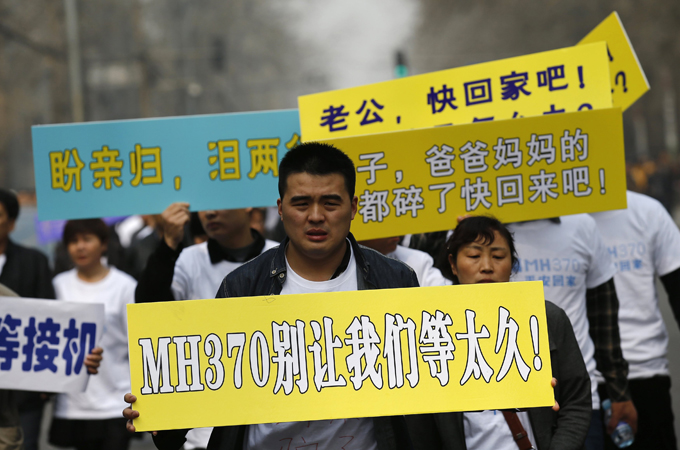 Relatives of Chinese passengers on board Flight MH370 scuffled with security personnel as they descended on Malaysia's embassy in a rare protest, weeping as they demanded answers on the crashed plane.
"Return our relatives," around 200 family members cried on Tuesday at the gates of the Beijing mission, which was protected by a row of uniformed police and plain clothes security.
The protest came hours after Malaysia's prime minister  announced that the plane crashed in the Indian Ocean after vanishing from civilian radar screens on March 8.
The Malaysian government and Malaysia Airlines have been criticised on social media platforms, especially in China, over the lack of physical evidence to support the Prime Minister Najib Razak's somber announcement.
All 239 people on board were presumed dead, airline officials said. Around two thirds of those were Chinese.
Families accused Malaysian authorities of concealing information, cheating the families and wasting valuable time during the search.
Some families were also notified via text message, which was deemed insensitive. A Malaysia Airlines spokeswoman denied the texting had been insensitive, saying counsellors had been with relatives gathered at hotels in Kuala Lumpur and Beijing to offer support.
One of the most vocal campaigners against the Malaysian government, Wen Wancheng, burst out crying at the embassy protest, the AFP news agency reported.
"My son, my son, return my son!" screamed the 63-year-old, as relatives behind him chanted slogans, raising their right fists. Behind him others bowed their heads and sobbed.
Scuffles broke out when uniformed security personnel attempted to block some of the relatives from reaching reporters, who were being kept in a designated area. One woman was taken away on a stretcher.
Paramilitary police with riot shields assembled nearby, out of view of the protesters.
Search parties will continue the search for debris with sophisticated devices. However, bad weather had grounded the Chinese and US military at Perth airport on Tuesday.
While finding the black boxes – a digital flight data recorder and a cockpit voice recorder – are key for investigators to determine the cause of the plane's mysterious crash after veering off-route, they will only continue emitting signals for up to 30 days after a crash.
China has demanded that Kuala Lumpur hand over the satellite data which led it to conclude that the Beijing-bound Malaysia Airlines flight crashed at sea and that none of the people on board survived.