North, South Korea exchange fire across disputed western sea border, Seoul says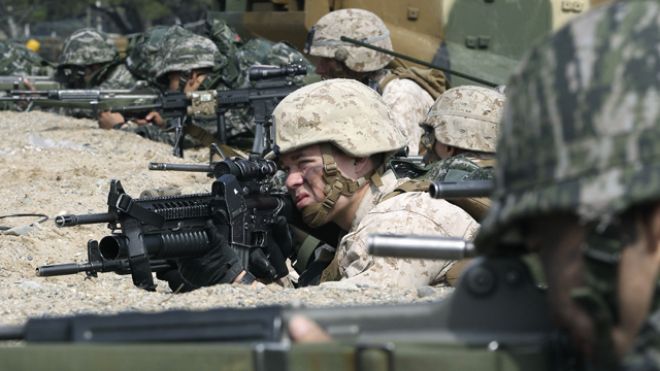 South Korean Marines fired artillery shells across a disputed sea border Monday after North Korean shells from a live fire drill conducted by Pyongyang fell into the water south of the frontier, Seoul officials told the Associated Press.
There were no reports of any injuries. Residents on front-line South Korean islands spent several hours in shelters during the firing, and officials temporarily halted ferry service linking the islands to the mainland. Kang Myeong-sung, speaking from a shelter on Yeonpyeong island, which is in sight of North Korean territory, said he didn't hear any fighter jets but heard the boom of artillery fire.
North Korea fired 500 rounds of artillery shells over more than three hours, about 100 of which fell south of the sea boundary, South Korean Defense Ministry spokesman Kim Min-seok said later Monday. South Korea responded by firing 300 shells into North Korean waters, he said.
No shells from either side were fired at any land or military installations, but Kim called the North's artillery firing a provocation aimed at testing Seoul's security posture. There was no immediate comment from North Korea.
The exchange of fire followed Pyongyang's earlier, unusual announcement that it would conduct the drills, a move seen as an expression of Pyongyang's frustration at making little progress in its recent push to win outside aid.
The poorly marked western sea boundary has been the scene of several bloody naval skirmishes between the Koreas in recent years. In March 2010, a South Korean warship sank in the area following a torpedo attack blamed on Pyongyang that left 46 sailors dead. North Korea denies responsibility for the sinking. In November 2010, a North Korean artillery bombardment killed four South Koreans on Yeonpyeong.
The North has gradually dialed down its threats since last year's tirade and has sought improved ties with South Korea in what foreign analysts say is an attempt to lure investment and aid. There has been no major breakthrough, however, with Washington and Seoul calling on the North to first take disarmament steps to prove its sincerity about improving ties.
Recent weeks have seen an increase in threatening rhetoric and a series of North Korean rocket and ballistic missile launches considered acts of protest by Pyongyang against annual ongoing springtime military exercises by Seoul and Washington. The North calls the South Korea-U.S. drills a rehearsal for invasion; the allies say they're routine and defensive.
"The boneheads appear to have completely forgotten the fact that Yeonpyeong island was smashed by our military's bolt of lightning a few years ago," a North Korean military official, Yun Jong Bum, said Monday, according to the North's official Korean Central News Agency.
Pyongyang also threatened Sunday to conduct a fourth nuclear test, though Seoul sees no signs it's imminent. Wee Yong-sub, a deputy spokesman at the South Korean Defense Ministry, said the North Korean warning about the live-fire drills Monday was a "hostile" attempt to heighten tension on the Korean Peninsula.
Recent threats are an expression of anger and frustration over what the North sees as little improvement in progress in its ties with South Korea and the U.S., said Lim Eul Chul, a North Korea expert at South Korea's Kyungnam University. Lim said the North might conduct a fourth nuclear test and launch other provocations to try to wrest the outside concessions it wants.
The Korean Peninsula remains in a technical state of war because the 1950-53 Korean War ended with an armistice, not a peace treaty. About 28,500 American troops are deployed in South Korea to deter potential aggression from North Korea.