The journalist was wearing a PRESS vest during the live report when a Police man, approached and violently shoved him sideways.
The attacker was quickly pulled away from camera view by another member of the media teams, while reporter continued his reporting.
The incident took place in Islamabad the capital of Pakistan. The attacker reportedly left right after the incident.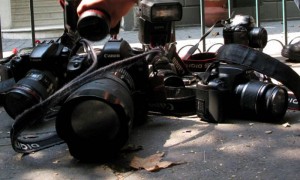 Police, Specially Punjab Police played a very negative role in accordance to save its government they took Camera man and media teams from their vans and beat them by stave even they are showing their identity.
Journalist(s) took out rallies all over the Pakistan ant protest against the government and their police.
Tribune International also Condemns these action which were took by the State and Punjab Police. Tribune International also contributed their part in term of protest against journalism.