Lev Tahor community "forced out" after villagers say they felt intimidated by the group's lack of contact with locals.
A few months after moving from Canada to a remote part of Guatemala to find religious freedom, a group of ultra-orthodox Jews have now been forced to leave their homes in a bitter conflict with villagers.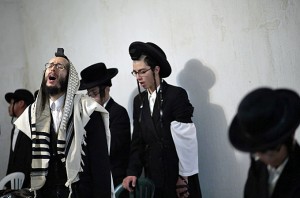 The Lev Tahor community packed its bags on Friday in San Juan la Laguna around 150km west of Guatemala City, to board buses bound for the capital after weeks of friction with sections of the local population.
The town's Elders Council voted last week to force the group to leave because they say some members of the sect have mistreated indigenous residents and tourists in the area, the AP news agency reported.
Verbal abuse, threats to cut off power and eject them by force were, say the Jews, the last straw for the group who began arriving in March from Canada, where the Lev Tahor group's strict religious ways had clashed with authorities.
Founded in the 1980s by Israeli Shlomo Helbrans, the Lev Tahor practice an austere form of Judaism.
Winning admiration from some Jews for its devoutness, the group is condemned by others as a cult-like sect.
Helbrans declined to be interviewed, but another Lev Tahor leader in San Juan, rabbi Uriel Goldman, fielded questions about the group.
Goldman insisted most of the Guatemalan villagers were friendly toward the group but that it was pushed out by an aggressive minority he said were motivated by local politics.
"I don't understand why they don't want us, we're doing nothing bad here," said Goldman, who like other men in the Lev Tahor, which means "Pure Heart" in Hebrew, the Reuters news agency reported.
Ultimatum
According to Goldman, the Elders Council issued an ultimatum to the Lev Tahor, saying water and electricity would be cut off if they did not leave.
"They also warned us they would remove us from the village by force," he added.
Miguel Vasquez Cholotio, a member of the council, said the villagers decided to expel the group because they refused to greet or have physical contact with the community.
"We felt intimidated by them in the streets. We thought they wanted to change our religion and customs," he said.
Eschewing technological trappings such as television and computers, daily life among the Lev Tahor, is steeped in religion.
Rejecting the state of Israel because it views the Jews as a people in exile, the Lev Tahor hope to find land elsewhere in
Guatemala to build 30 houses to resettle the 200-odd strong community, Goldman said.
Around 60 members of the group left San Juan during the night with the rest set to follow.