New Delhi: Nuclear energy cooperation between India and Russia got a major boost with both sides on Thursday inking a vision document for the construction of 12 Russia-built nuclear units in India over the next two decades as Prime Minister Narendra Modi and visiting Russian President Vladimir Putin held summit talks here.
The two sides inked 20 agreements, including in the sphere of defence cooperation, oil and gas and in trade, after the holding of the 15th India-Russia annual summit.
Modi, reading out a statement after the talks, termed India's strategic partnership with Russia "incomparable in content".
While Modi said that both sides outlined an "ambitious vision for nuclear energy of at least 10 more reactors", Putin, in his address, said Russia would set up "20 nuclear units" in India and also cooperate in uranium mining.
The 12 reactors includes the 1,000-megawatt Russia-built reactor that has begun operations at the Kudankulam nuclear power station in Tamil Nadu and the second unit that is set to come onstream in 2015. India inked agreements for units 3 and 4 at Kudankulam.
Besides these, two more would come up at Kudankulam. Land has to be earmarked for the remaining new six reactors to be built by Russia, said sources.
India agreed to "expeditiously identify a second site, in addition to Kudankulam, for the construction of the 12 Russia-designed nuclear power units in India", the vision document said.
It was inked by India's Department of Atomic Energy and Russia's state nuclear power corporation Rosatom.
Among the 20 agreements inked was a formal contract between the Nuclear Power Corporation of India Limited (NPCIL) and Atomstroyexport, Russia's nuclear power equipment and service export monopoly, for units 3 and 4 at Kudankulam.
The agreement marks the "commencing of the implementation" of the two units "with supply of some major equipment" by the Russian company.
In the field of hydrocarbons too, both sides inked agreements for India to scout for oil and gas in the resource rich Arctic Shelf.
Modi said India, despite being one of the world's largest importers of hydrocarbons, has not cooperated enough in this sector.
"Today, we have made a new start with a few important agreements. But we will set an ambitious agenda for partnership in oil and gas," Modi said.
Putin said Russian energy behemoths Rosneft and Gazprom would join up with Indiancompanies to scout for oil and gas in the Arctic Shelf.
India's Essar Group inked an agreement with Rosneft for long-term supply of crude oil. This envisages a 10-year supply and purchase by India of crude oil and feed stocks/products.
Defence was another area that saw both sides enhancing cooperation.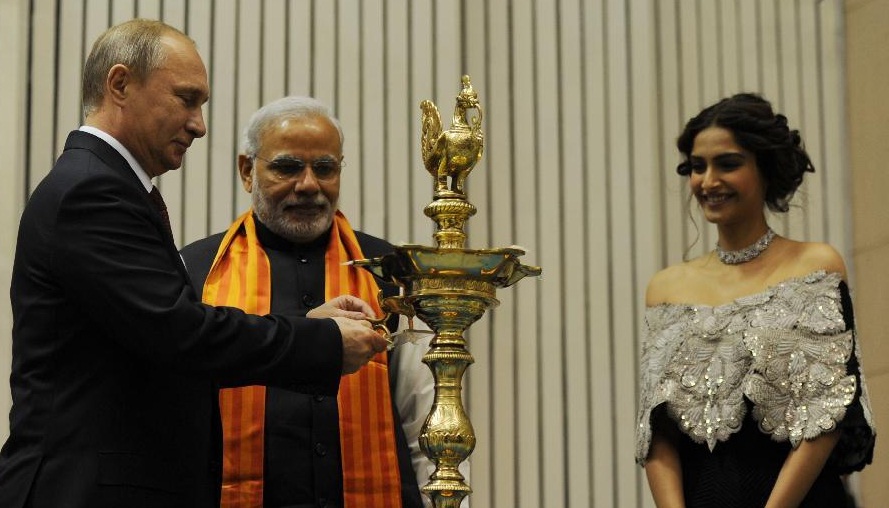 Modi said Russia has been "India's foremost defence partner through decades" and termed the refitted Russian aircraft carrier INS Vikramaditya as a "great symbol" of bilateral defence cooperation.
"Even as India's options have increased today, Russia will remain our most important defence partner," he said.
India imports around 70 percent of its defence requirements from Russia, but has been looking at other countries, including Israel and the US, for its weaponry.
He said the two sides discussed a broad range of new defence projects and how to "align our defence relations to India's own priorities including Make in India".
Modi said Russia has offered to fully manufacture in India one of its most advanced helicopters, with the possibility of exports from India.
The helicopter can be used for both military and civilian use. Modi also proposed that Russia should locate its defence spares and components manufacturing facilities in India and added that Putin had "responded very positively" to the request.
Getting Russian spares for defence equipment purchased earlier has been a major headache for India.
Putin's visit and the agreements with India came as the Russian economy is buffeted by Western sanctions over Ukraine and the rouble has slumped following the slide in oil prices.
Modi thanked Russia for its support in building closer relations with the Russia-led Eurasia Economic Union, which includes Belarus, Kazakhstan, and Armenia, and is viewed as a rival to the European Union.
The Eurasian Economic Union is aimed to create a single economic market of 171 million people and a gross domestic product of USD 3 trillion.
Modi also conveyed his condolences at the loss of lives in a terror attack in Chechnya last week.
A Druzhba-Dosti joint vision statement was issued that saw both leaders agreeing on a vision for strengthening the India-Russia partnership over the next decade and to take ties "to a qualitatively new level".
Both leaders jointly inaugurated the World Diamond Conference. With Russia being the largest exporter of rough diamonds and India a world leader in the cutting and polishing industry, the two sides joined hands for direct trade instead of through a third party. – IANS