The Caribbean island was left in ruins as the storm last night continued to batter the US coast.
Survivors of Hurricane Matthew in Haiti are mourning the victims as fears of an increase in cholera cases grow.
On Sunday Haitians attended church services to remember the dead, some worshipping outside because buildings were destroyed.
Rescuers in the south of Haiti said the 145mph winds had caused "complete destruction" in some areas. Almost 900 bodies have so far been recovered.
Hurricane Matthew continued its destructive march along the US coast on Saturday, flooding two of the South's most historic cities and knocking out power to more than a million homes and businesses.
UN officials said up to 350,000 people need emergency aid.
UNICEF says the conditions in Haiti are "perfect breeding grounds for waterborne diseases." Marc Vincent, UNICEF's representative in Haiti says, "Every day that goes by increases the threat of cholera."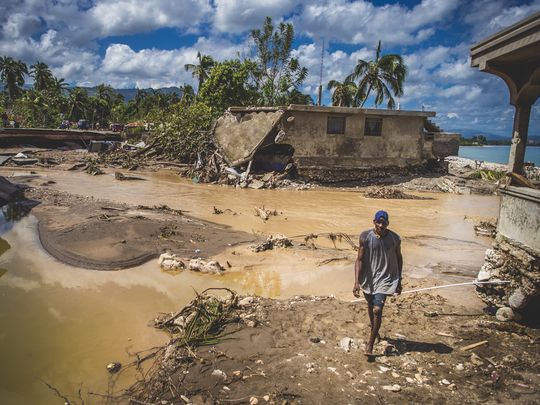 The catastrophic damage this week in Haiti was made worse because the impoverished country is still recovering from a devastating earthquake in 2010. Thousands of people who have been living in flimsy shelters since the earthquake saw those washed away by the hurricane, which also destroyed a bridge that is the only link between a large portion of southern Haiti and the rest of the country.
Officials have warned the list of casualties will likely climb – perhaps significantly – as rescuers finally manage to reach remote villages.
Video images from Haiti showed entire landscapes of metal shanties that lost their roofs in the winds and driving rains, along with downed trees and fields of mud from overflowing rivers.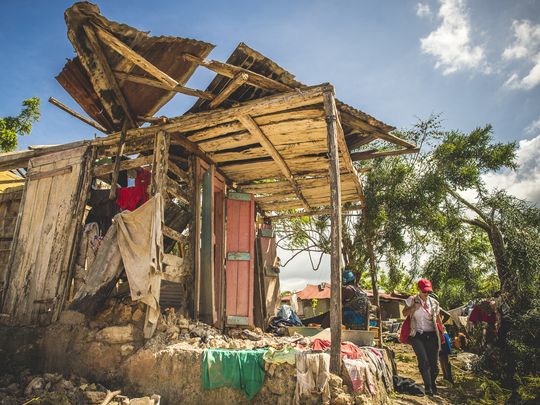 The storm was blamed for four deaths in Florida, as the death toll in Haiti rose to nearly 1000, with new aerial footage revealing large areas of flattened shanty towns. A further 13 people were reported to have been killed in the US.
The southern states of Georgia and South Carolina were battered with torrential rain and strong winds, as the hurricane blew ashore for the first time, hitting a town north of Charleston where it caused serious flooding.
Haiti, one of the world's poorest nations, had not fully recovered from the 2010 earthquake which killed tens of thousands.
Matthew also killed four people in neighbouring Dominican Republic.