Famous ghazal singer Habib Wali Muhammad breathed his last on Thursday in Los Angeles at the age of 90.
Habib Wali Muhammad was born in Rangoon (now called Myanmar) and grew up in Mumbai after his family shifted there. He hailed from an industrialist family and later his younger brother, Ashraf W. Tabani went on to become the Chairman of Export Promotion Board of Pakistan as well as the Governor of Sindh.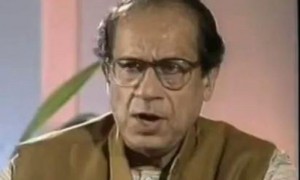 However, Muhammad pursued his passion and proved himself when he won the first prize in a singing competition in Mumbai which had around 1200 other participants.
He rose to fame with the famous ghazal of the last Mughal Enperor, Bahadur Shah Zafar, Lagta Nahi Hai Dil Mera Ujray Diyaar Main.
Trained by Ustaad Latafat Ali Khan, he also lent his voice in 1970s film Badal aur Bijlee alongside Farida Khanum, with ghazal Aaj Janay Ki Zid Na Karo later becoming one of his most popular songs.
His famous songs include, Ghalib's ghazal Ye Na Thi Hamari Qismet and Raatain Theen Chandni for film Baazi among many others.
He leaves behind three sons Anwar, Rizwan and Nadeem and daughter, Rusksana