Russian energy firm delays imposing pre-payment regime for deliveries until June 9 after country pays $786m of its debt.
Gazprom, Russia's state-owned natural gas producer, has pushed back its ultimatum to Ukraine on imposing pre-payment for natural gas deliveries after the country paid $786m in arrears, according to the company's chief executive Alexei Miller.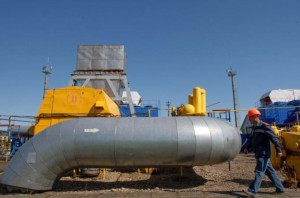 The company had said previously that it would from Tuesday deliver only gas that had already been paid for, raising the prospect of supplies to Ukraine being cut off immediately and disruptions in onward gas flows to Europe.
"Ukraine has paid the first instalment for gas supplies. Today $786m entered Gazprom's account," Miller was quoted as saying in a company statement on Monday.
"We welcome Ukraine starting to pay back its debt and postpone the pre-payment regime until June 9.
"The introduction of the pre-payment regime will depend on the full repayment of the debt for gas supplied up to April 1 in the amount of $2.237bn, part of which was paid today, and on the progress in payments for April and May supplies."
A third dispute over natural gas between the two countries erupted when Moscow nearly doubled the price it charges its neighbour for the fuel following removal of pro-Russia Ukrainian President Viktor Yanukovich from his post pro-EU mass protests.
Yanukovich rejected an EU trade deal over a loan from Russia.
Russian natural gas transits through Ukraine supply about 15 percent of European needs and Guenther Oettinger, the EU mediator, has been urgently seeking a compromise to save 18 member states from seeing their deliveries start dwindling.
Gazprom now says it is willing to discuss a lower price and analysts believe that a compromise is in sight because Russia would prefer to avoid complicating its relations with Europe further.