Monkeys, ostriches, and eagles are among the many animals killed in Israeli bombings at a zoo in northern Gaza.
Beit Lahiya, Gaza Strip – Throughout Israel's military assault on Gaza, Wasef Hamad risked his life on a regular basis. But unlike most Palestinians living under Israeli bombardment, Hamad did not venture out in the midst of Israeli air strikes to bring food to his displaced family, take refuge at a local school, or to check on his destroyed home.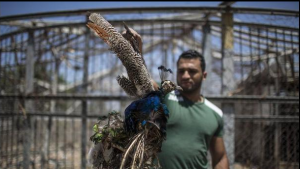 Instead, Hamad put himself in danger to protect lions, monkeys, ostriches, and other animals, all of which were slowly starving at the Bissan Zoo, in the northern Gaza town of Beit Lahiya.
"I came here one time to have a quick glimpse from afar, but I saw death in my eyes… a bomb from an F-16 hit as close as 200 metres [away]," the 25-year-old told media.
The zoo covers about 2.5 acres of a 60-acre park near the border between Israel and Gaza. The animal cages are surrounded by football fields, citrus and olive groves, and play areas for children. A branch of Al-Quds University is to the south of the park, while a police station and United Nations aid distribution center are to the east.
The area experienced frequent Israeli bombings; Hamad was only able to visit the animals when a 72-hour ceasefire came into effect on August 5. "More than half of the animals were killed, most of them by shrapnel, and I think some birds died of thirst," Hamad said.
At least 1,965 Palestinians have been killed and almost 10,000 more have been injured since Israel's military operation in Gaza began on July 8, according to the United Nations. Sixty-four Israeli soldiers and three Israeli civilians have also been killed.
Israeli air strikes on Gaza have also had a devastating impact on local infrastructure; the UN has reported that 16,800 homes have been destroyed, and approximately 250 factories and construction sites have been damaged, among other properties.
The zoo's three-story administrative building was destroyed after being hit by what appeared to be multiple air strikes; one bomb left a three-meter deep crater nearby. What was once a rare stretch of green space located near the zoo, normally used by Palestinian families from Beit Lahiya, Beit Hanoun, and Jabaliya refugee camp, was reduced to a brown and desiccated patch.
"They destroyed the water well. The grass was not watered for over 40 days," Hamad said. "There is barely [any] water for human beings to drink," he added, shaking his head as he continued to the zoo.
Hamad, a father of three, has worked at the park since it was first opened in 2011. Today, cages have been transformed into tangled heaps of metal bars and crushed concrete. The smell of rotting animal carcasses permeates the air. 
In one of the cages, a grey male baboon sits, watching visitors while the bodies of a dead female and two young baboons lie on the floor. "He refuses to let anybody inside the cage. He attacked my colleague when he entered to remove them," Hamad said. Another cage houses only the motionless body of a peacock. 
The animals that survived the bombings were quiet, behaving almost as though they were in shock. A crocodile, famous for having escaped from the zoo in 2012, remained docile as a duck drank water from his pool.
While the zoo's three lions were unharmed – their cage is more fortified than the others, Hamad explained – seven monkeys, two ostriches, a deer, a llama, two storks, some porcupines, and eight eagles were killed. The zoo was originally home to about 50 animals, and dozens of birds.
"They are hungry; bringing them meat requires a stable situation in which municipal slaughterhouses [can] work regularly to bring their leftovers for the lions," Hamad explained.
Some animals only survived the Israeli shelling because Palestinians living nearby brought them water during lulls in the violence. Among them was 15-year-old Ibraheem Hnideq, whose home is about 150 metres from the zoo.
"We live here… I used to visit this park and zoo," he told media. "I thought… [the animals] must be thirsty because the zookeepers don't come." Hnideq said that he went alone to bring the animals water because his friends were too afraid to enter the area.
"I went with one bucket of water, but it was not enough." The next day, however, some friends joined him. "We put the buckets near the metal bars for the ostriches, and dropped [them] on ropes to the lions."
Most of the animals at the zoo were smuggled into Gaza from Egypt through underground tunnels. With the near-total destruction of these tunnels after the ouster of Egyptian President Mohamed Morsi last year, Hamad said it won't be easy to bring in new animals to replace those that died.
"The lions are also sick and need vaccines that are unavailable here, and we can't bring them from Egypt anymore."