Foreign Minister Julie Bishop considered a last-minute mercy dash to Indonesia to personally plead for the lives of Andrew Chan and Myuran Sukumaran. But reports say, diplomats have talked her out of the move, advising it could do more harm than good.
Asked if she had considered making a mercy dash to Indonesia to plead for their lives, Bishop said: "Of course I've considered that many times but I am informed and advised by our experts in this area that this would in fact be seen as counterproductive, that what we must do is to continue to press behind the scenes, we must make representations to those who can make a difference, those who can make the decision.
"I have to take the advice of our very experienced consular officials, those who have been involved in these sorts of cases before, and I'm told that if I flew to Jakarta at this time it could potentially be counterproductive and could precipitate an unfavourable outcome."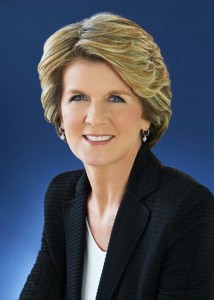 Bishop said it was important to keep open the lines of communication. She repeated a theme the Australian government has pursued over the last few days highlighting Indonesia's representations for its own citizens abroad who face the death penalty. "Australia opposes the death penalty at home and abroad," Bishop said.
Ms Bishop said Monday's meeting was another opportunity to press the case for Chan and Sukumaran, who were among nine Australians arrested in 2005 in Bali over a heroin trafficking plot.
 Reports of Indonesian judges asking for bribes in exchange for penalty leniency have given hope for a delay in the pair's execution date. The legal team representing the convicted drug smugglers may demand an investigation into the proceedings of the trial. Indonesia's foreign ministry has invited all embassies with citizens to be executed to the meeting, which could mean the executions will take place this week.
Julie Bishop has called on Indonesia not to execute two Australian men on death row before the courts have considered a fresh appeal by their legal team.
But the foreign affairs minister refrained from commenting directly on the "very serious" claims, made by Andrew Chan and Myuran Sukumaran's legal team, that six judges who sentenced them to death offered to give a lighter penalty in exchange for a bribe.
Fairfax Media reported that the claim was outlined in a letter to Indonesia's judicial committee alleging a breach of ethics, and the legal team had also written to the attorney general, HM Prasetyo, highlighting an outstanding legal challenge in the administrative court.
Asked if she had faith in the Indonesian legal system, Bishop said: "These are very serious allegations and I understand that the lawyers for Mr Sukumaran and Mr Chan will continue to raise these matters.
"There is an appeal process still under way and I urge the Indonesian authorities to allow that appeal process to proceed and to not take any action that would prevent that appeal process from progressing. Of course I have to respect the Indonesian legal system – it's an independent sovereign nation; it has its own judicial system."
Bishop told the ABC she understood Indonesia's tough line on drug trafficking "but my point is that no good purpose will be served by executing two Australian citizens who have been rehabilitated and who are repaying their debt to society".
"Our message is that a decade on from their crime, these men are remorseful; they've been rehabilitated," she said of Chan and Sukumaran, who were sentenced to death over a drug smuggling plot by a group that became known as the Bali Nine.
"And this will be a great injustice, indeed a wasted opportunity for Indonesia because they will be able to demonstrate how successful their prisons system can be in rehabilitating drug traffickers."