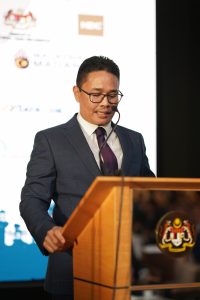 London (October 27th) – In an exceptional display of collaboration and commitment to the growth of the Halal ecosystem, five prominent Islamic financial institutions have joined forces, pledging a substantial total funding of RM 2.67 billion (£459 million). This ground breaking commitment is set to propel the advancement of Malaysia's Halal industry and stimulate economic prosperity in the nation.
SME Bank Malaysia has made a substantial pledge of RM 1 billion (£170.5 million) to this initiative, while Standard Chartered Saadiq Islamic Bank, Bank Islam Malaysia Berhad, Alliance Islamic Bank Berhad, and Hong Leong Islamic Bank have contributed a combined RM 1.67 billion (£284.8 million). This unprecedented financial support positions Malaysia for significant development and innovation in the Halal sector, concurrently elevating its stature as a sought-after hub for Halal investments on a global scale.
The Rt. Hon. Dato' Seri Dr. Ahmad Zahid Hamidi, Deputy Prime Minister of Malaysia, expressed, "This substantial commitment from leading financial institutions underscores our collective dedication to nurturing growth and innovation within our Halal ecosystem. The RM 2.67 billion funding portfolio establishes an enabling platform for sustainable development, job creation, and global competitiveness within the Halal sector. This marks a significant stride in our mission to position Malaysia at the forefront of the Global Halal Economy."
The pledged funds will be channelled towards various initiatives within Malaysia's Halal industry, including:
Reinforcing the commitment to research and development (R&D) of innovative Halal products and services.
Facilitating infrastructure development and enhancing existing facilities for small- and medium-sized enterprises (SMEs).
Boosting the export of Malaysian Halal products and services to international markets.
Empowering entrepreneurs and start-ups in the Halal industry by providing mentorship, guidance, and financial assistance.
The collaboration between these five Islamic financial institutions is a remarkable milestone that underscores the significance of the Halal ecosystem for Malaysia. Through cooperative efforts and strategic investments in the sector, Malaysia aspires to become a leading global Halal hub, contributing substantially to the nation's economic growth and stability.
The WHBC Circuit 2023 stands as a prominent international industry event dedicated to the global enhancement of the Halal industry. Through innovation, thought leadership, sustainable practices, and inclusive growth, WHBC Circuit is playing a pivotal role in shaping a sustainable, thriving, and future-ready Halal industry.
For detailed information on the complete WHBC Circuit 2023 program in London, please visit the official website at https://whbc.hdcglobal.com/programme/.
[END]